Brian Zinchuk is editor and owner of Pipeline Online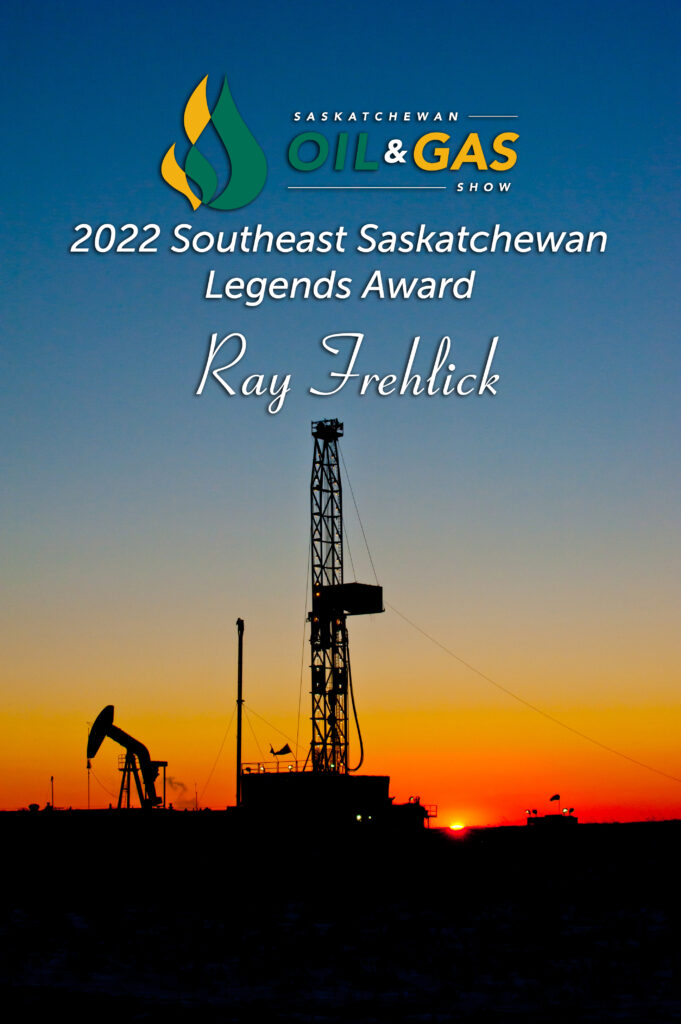 The Saskatchewan Oil and Gas Show, held in Weyburn, is honouring several people as being a Southeast Saskatchewan Legend. The awards will be presented on June 1, and you can get tickets to the event at oilshow.ca. 
Few have put as much effort into community service as Ray Frehlick of Estevan, a Southeast Saskatchewan Legend.
Ray Frehlick was raised on a farm near Wilkie, Saskatchewan. Ray moved to the Estevan to work in the oil industry, with a focus on the drilling fluids and oilfield chemical businesses.
In 1969, he and Bill Huddleston fired up Prairie Petro-Chem Ltd. It focused on providing chemicals and other products to the oil industry in Canada. In 1972 they expanded to the United States. Within 10 years, Ray had acquired full ownership of both of those companies.
In 1976, Ray and his wife, Doris, incorporated Prairie Mud & Chemical Service Ltd. An American version launched in 1981. They sold drilling fluids and related products. Prairie Mud grew to where it had operations in Alberta, Saskatchewan, Manitoba, North Dakota and Montana.
Ray and Doris are tireless workers and provide excellent service to customers, throughout the booms and the busts of the industry. Recognizing the need to stay current with developments and adapting to changes in the industry and technology are part of the Frehlick business philosophy.
Ray and Doris consider the people who work at their businesses to be part of the family, and strive to treat them well. This included enabling key employees and their children to become part owners.
Throughout the years Ray has been active in the Saskatchewan Chamber of Commerce, Estevan Chamber of Commerce, Petroleum Services Association of Canada, Estevan Oilfield Technical Society and other business and industry organizations. He has received many awards including being named Southeast Saskatchewan Oilman of the Year in 1993, induction into the Saskatchewan Baseball Hall of Fame and the Saskatchewan Oil Patch Hall of Fame, and the Queen's Medal in 2002. Estevan named a street after him.
Ray has been involved in numerous other ventures which have since been sold. These included Plains Environmental, a disposal cavern; Estevan Plastics, a fibreglass plant; and Prairie Rathole. Doris ran Estevan Dry Cleaners during the 1980s. PetroChem's Canadian side was sold to Clariant in 2014. He remains involved with Southland Pulse.
If that wasn't enough, Ray has a cattle operation with a couple hundred head of cattle. He owns and operates Frehlick Quarter Horses. Ray, Doris and one of their sons have a grain farm where they seed about 100 quarter sections of land each year.
He has been active with the Estevan Minor Hockey Association, Estevan Minor Baseball, Ace Mud Mets ball diamond, and Estevan Bruins Junior Hockey team. He and Doris contributed Saskatchewan Summer Games that were held in Estevan in 1980 and 2016. He co-chaired annual Sportsman's Dinners in Estevan, co-chaired the 2016 Western Canada Cup Host Committee and chaired the Saskatchewan Oil and Gas Show Board.
Ray was appointed to the Government of Saskatchewan's Action Committee on the Rural Economy.
Ray and Doris have been philanthropists both personally and through their businesses. Beneficiaries have included hospitals and other medical providers, the arts, community rinks, many sports and good causes
Four of Ray and Doris's five children became involved in the oilpatch at onetime or another.
Whether it is business, a community organization or politics, Ray states that, "It takes leaders and, while many are called, few come forward."
If you're basing your business decisions on what's really going on in the Saskatchewan energy sector, you need in-depth stories like this that you won't find anywhere else. No other media digs as deep into the oilpatch in Saskatchewan as Pipeline Online. Follow Pipeline Online on LinkedIn, Twitter or Facebook.
0037 TED_DEEP_30_

0036 Prairie Lithium - Chad Glemser 30 Sec

0035 TED - Whitecap

0034 TED_NA Helium 2021

0033 Buffalo Potash Jared Small Footprint

0032 IWS Summer hiring rock trailer music

0029 Latus Viro updated Latus phone

0027 TED_NA Helium 2021_30

0025 Kendalls

0026 Buffalo Potash Quinton Salt

0023 LC Trucking tractor picker hiring mix

0022 Grimes winter hiring

0021 OSY Rentals S8 Promo

0019 Jerry Mainil Ltd hiring dugout

0018 IWS Hiring Royal Summer

0014 Buffalo Potash What if PO

0013 Panther Drilling PO ad 03 top drive rigs

0011

0006 JK Junior

0004 Royal Helium PO Ad 02

9001

0002