Brian Zinchuk is editor and owner of Pipeline Online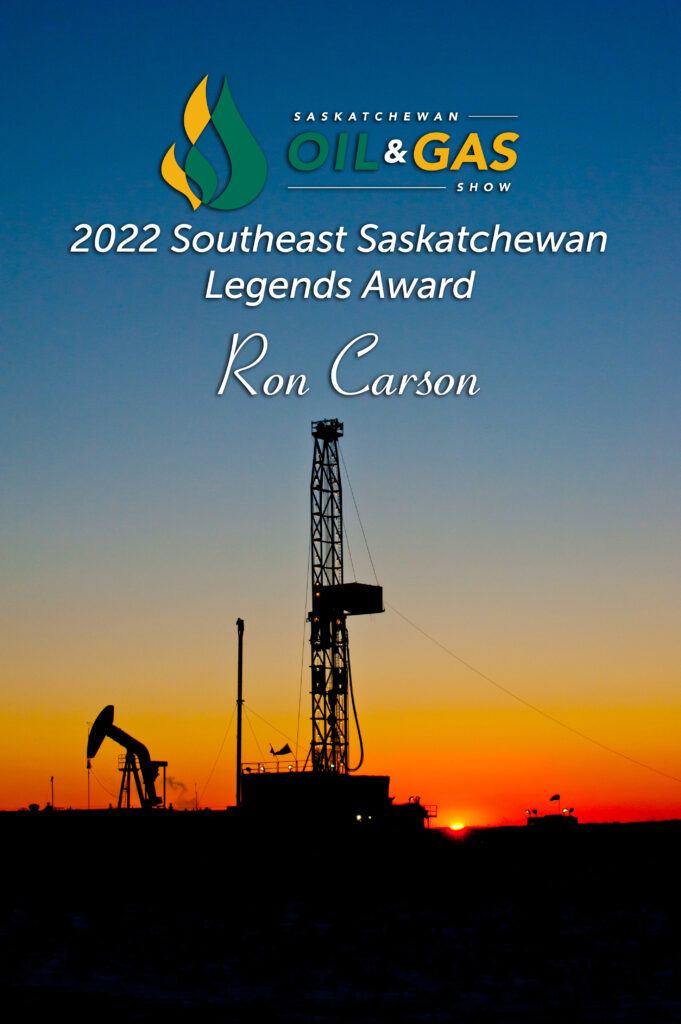 The Saskatchewan Oil and Gas Show, held in Weyburn, is honouring several people as being a Southeast Saskatchewan Legend. The awards will be presented on June 1, and you can get tickets to the event at oilshow.ca. 
Here is the citation for Ron Carson:
Born in 1943, Ron Carson grew up in Lampman.
He met and married Shirley Fleck, also from Lampman, in 1965. They had five kids: Tracey, Travis, Trent, Troye and Tricia.
Ron worked summer holidays during high school at the Steelman gas plant. After graduation, he worked there the next six years.
While working as a gas plant operator, Ron got his welding pressure ticket. He went into partnership with Stan Fleck of Estevan, his wife's uncle. The business was Fleck and Carson Welding.
They sold out in 1974, and Ron started Carson Welding and Maintenance.
"We ran four trucks – two welding, two service – at that point in time, a total of about eight people," he said.
Over the next nearly four decades, the company saw steady growth, becoming one of the largest oilfield service companies of its type in the province. At times they had over 1,100 people working for them, and a similar number of pieces of equipment and trucks.
This was all based in Lampman, because that's where he started. "We didn't expect to see the growth we saw. We started up where we live," Ron said.
They also had a family farm operation just out of Lampman, now run by Trent and son-in-law Roy Stinson. Troye ran the safety and services division, and now owns and operates it as a separate company.
Over the years, a lot of people had been part of the company for the long haul. Carsons had quite a few staff with over 30 years of service, and even more with over 20.
Those people were all key people, he said, noting, "It would never happen without the people we had."
Around 2007, Carson acquired Elite Mechanical, in Lloydminster.
By that point, the company, now known as Carson Energy Services, had shops and staff in almost every oilpatch community in this province, as well as some in Alberta and Manitoba. There were 14 locations in total.
Carson Welding and Maintenance had locations in Lampman, Halbrite, Carlyle, Alida, Estevan, Lloydminster, Shaunavon, Swift Current, and Wainwright, plus field offices at EnCana's Weyburn field, and with Apache Canada at Midale. Another was added at White City. Virden was added in 2011, with the acquisition of Sparks Oilfield Construction. They also had an office in Calgary.
There were several divisions, but the big ones were pipeline, facility construction and general maintenance. The facility work included batteries, gas plant expansion, and CO2 work in Weyburn and Midale units.
The Lampman location was definitely the largest of them all.
Carson Energy Services operated as a vertically-integrated company. Other areas of work included pickers, piledriving, safety, hydrovac, roadbuilding and gravel hauling.
In 2011 Carson Energy Services sold to Flint Energy Services. Several senior managers had part ownership in the company and benefited from the sale. Ron spent some time managing the transition to Flint, then URS, which then sold to AECOM. He retired in 2016.
Since then, Ron has been active on boards and in advisory roles. One of those has been with Canadian Plains Energy, which was founded by former Carsons senior management. Another has been the Deep Earth Energy Production geothermal project.
For many years Ron was active with Saskatchewan Oil and Gas Show board, including serving as chair.
When it came to helping out in the community, he said, "I tried to give back the best I can." That included the Jim Pattinson Children's Hospital, STARS Air Ambulance and the Saskatchewan Roughriders. Estevan's St. Joseph's Hospital hosts the Ron and Shirley Carson Diagnostic Centre. Shirley passed away in 2019.
Ron was recognized as the Ernst & Young 2009 Prairies Region Entrepreneur of the Year for energy services and the Oilman of the Year in 1997. In 2011 Ron received Saskatchewan's highest honor, the Saskatchewan Order of Merit
Ron Carson fits is the definition of a Southeast Saskatchewan Legend.
If you're basing your business decisions on what's really going on in the Saskatchewan energy sector, you need in-depth stories like this that you won't find anywhere else. No other media digs as deep into the oilpatch in Saskatchewan as Pipeline Online. Follow Pipeline Online on LinkedIn, Twitter or Facebook.
0051 JML Hiring Pumpjack assembly

0051 JML Hiring Pumpjack assembly

0049 Scotsburn Dental soft guitar

0049 Scotsburn Dental soft guitar

0050 Pride Upkeep lawn

0050 Pride Upkeep lawn

0048 Hutts Trucking Safety

0048 Hutts Trucking Safety

0047 Estevan Oilfield Technical Society 2023

0047 Estevan Oilfield Technical Society 2023

0046 City of Estevan This is Estevan

0046 City of Estevan This is Estevan

0044 PTRC CCUS Aquistore

0044 PTRC CCUS Aquistore

0043 ALX ten sizes

0043 ALX ten sizes

0039 Summit ESP Saskatchewan lower third

0039 Summit ESP Saskatchewan lower third

0041 DEEP Since 2018 now we are going to build

0041 DEEP Since 2018 now we are going to build

0040 Southeast College safety tickets

0040 Southeast College safety tickets

0032 IWS Summer hiring rock trailer music

0029 Latus Viro updated Latus phone

0025 Kendalls

0023 LC Trucking tractor picker hiring mix

0022 Grimes winter hiring

0021 OSY Rentals S8 Promo

0019 Jerry Mainil Ltd hiring dugout

0018 IWS Hiring Royal Summer

0013 Panther Drilling PO ad 03 top drive rigs

0011

0006 JK Junior

0004 Royal Helium PO Ad 02

9001

0002