Brian Zinchuk is editor and owner of Pipeline Online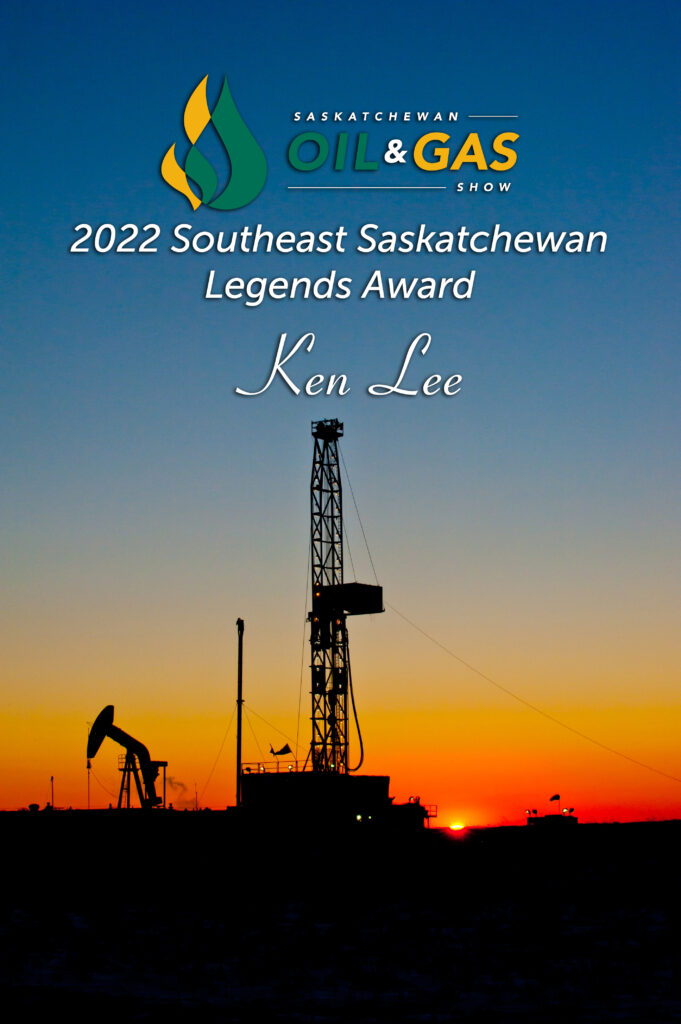 The Saskatchewan Oil and Gas Show, held in Weyburn, is honouring several people as being a Southeast Saskatchewan Legend. The awards will be presented on June 1, and you can get tickets to the event at oilshow.ca. 
Here is the citation for Ken Lee:
Ken was born in 1933 near Elswick, Saskatchewan, a few miles from the current location of Mainprize Park.
Following his Grade 12 graduation in Midale, Ken worked various jobs as truck driver, mechanic and farm equipment salesman.
In 1954 Ken was hired by Shell Canada and began the first stage of his career in the oil business. While employed by Shell, Ken worked at Midale, Calgary, Houston and Portland.
In 1955 Ken married Marlene Fagerheim, also from Midale.
He moved his family several times and because of the many moves, in 1967 the family decided to quit Shell and the oil business to be able to live in Midale where Ken & Marlene raised 4 children. For a few years Ken worked as a mechanic and he sold fuel to the local farmers. Indeed, mechanics was one of his enduring interests over the years.
Ken returned to the oil business as a consultant and, along with a few friends, started Midale Petroleums. They bought their first two oil wells from Sun Oil in 1971. They drilled their first well in 1975. The company continued to grow while owned by Ken and four of his very best friends through purchase and drilling. He credits the success of the company to the collective expertise of the five owners, the exceptional staff that has, and continues to work there, an outstanding service industry in the area, and a cooperative group of people in the provincial ministry.
His title was "managing director," but titles were sort of irrelevant, as the five partners worked together in running the company.
Ken retired from full-time management of the company in 1998 but has enjoyed the good fortune of being able to remain involved and in close communication with the ongoing management of the company and still serves on the board of directors along with other members of the families of the five partners.
Ken moved with Marlene to Regina in 2011 to allow for better care for Marlene's dementia. Marlene passed away in 2016.
Since his retirement, all four of his partners and friends in Midale Petroleums; Dale Hardy, Ervin Meyers, George Hardy and Ran Clearwater have also passed away.
Other than friends and family, Ken's primary passion has been a pursuit of philanthropy for many years.
Ken Lee is truly a Southeast Saskatchewan Legend.
If you're basing your business decisions on what's really going on in the Saskatchewan energy sector, you need in-depth stories like this that you won't find anywhere else. No other media digs as deep into the oilpatch in Saskatchewan as Pipeline Online. Follow Pipeline Online on LinkedIn, Twitter or Facebook.
0037 TED_DEEP_30_

0036 Prairie Lithium - Chad Glemser 30 Sec

0035 TED - Whitecap

0034 TED_NA Helium 2021

0033 Buffalo Potash Jared Small Footprint

0032 IWS Summer hiring rock trailer music

0029 Latus Viro updated Latus phone

0027 TED_NA Helium 2021_30

0025 Kendalls

0026 Buffalo Potash Quinton Salt

0023 LC Trucking tractor picker hiring mix

0022 Grimes winter hiring

0021 OSY Rentals S8 Promo

0019 Jerry Mainil Ltd hiring dugout

0018 IWS Hiring Royal Summer

0014 Buffalo Potash What if PO

0013 Panther Drilling PO ad 03 top drive rigs

0011

0006 JK Junior

0004 Royal Helium PO Ad 02

9001

0002