David Yager is a long-time oilpatch writer and executive. Yager's copy is provided free of charge by the Canadian Energy Centre Ltd.
Global events can have a huge impact on what happens in Canada.
The coronavirus pandemic did not emerge from a laboratory or "wet market" in Yorkton. The world price of oil is not set in Estevan, although perhaps it should be. Those folks know more about it than most.
But Canadians don't always pay close attention to what the rest of the world is doing, or what challenges the 99.5 per cent of the people who don't live in our country face compared to ours.
To listen to the daily news, what matters is primarily local and personal. In no particular order, they are the coronavirus (the latest restrictions and statistics), which politicians have done the dumbest things lately, the rising costs of everything including housing, crime of any sort and, of course, the weather.
People have always talked about the weather. Then along came climate change.
For those curious about what the other 7.86 billion earthlings are thinking, international public opinion pollster Ipsos publishes a monthly report titled "What Worries The World."
Ipsos surveys nearly 20,000 people from the ages of 16 to 74 in 28 different countries. Broken out by continent and/or major regions, they are:
North America
Canada, United States, Mexico
South America
Peru, Brazil, Argentina, Chile
Europe
Germany, France, Netherlands, Great Britain, Poland, Belgium, Spain, Sweden, Italy, Turkey, Hungary
Middle East/Africa
Saudi Arabia, South Africa, Israel
Asia/Asia Pacific/Eurasia
India, China, Malaysia, Australia, South Korea, Japan, Russia
What I find most interesting about this data is the issues that dominate globally are so different from those that trouble Canadians.
The following table details the major issues which Ipsos tracks. The coronavirus has a huge impact on life globally. To put the pandemic into context, here's how the top issues ranked in December 2021 and January 2020, the last month in which the COVID-19 pandemic was not yet a major international issue. That's one month short of two full years.
The question asked is, "Which three of the following topics do you find the most worrying in your country?" Then they are ranked in descending order of importance.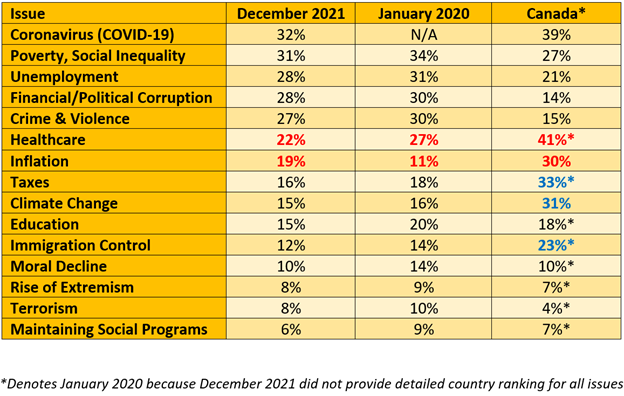 Looking at what Canada thinks compared to the rest of the world, the obvious conclusion is Canada is a safe, comfortable and expensive place to live. We're way less worried about crime, corruption and employment.
But the three issues highlighted in blue stand out. Taxes are high, immigration seems to be a big issue and we're wealthy and comfortable enough to spend more time than most worrying about climate change.
What is important about this data presented this way is that when concerns over coronavirus rise, it reduces the importance of the big issues pre-pandemic. These are serious matters that will likely resume their former importance in the post-pandemic world unless they have been reduced or resolved.
But reviewing more data from 2019 reveals the results for January 2020 is what the "normal" world looks like.
As the pandemic skews what matters most, note inflation and health care which have been highlighted in red.
Health care appears to have declined but in fact it has grown because coronavirus is a health care issue. Look where health care ranked in Canada as 2020 began.
0023 LC Trucking tractor picker hiring mix

0022 Grimes winter hiring

0021 OSY Rentals S8 Promo

0020 Sk Oil Show PO Ad 02 speakers with voiceover

0019 Jerry Mainil Ltd hiring dugout

0018 IWS Hiring Royal Summer

0017 eventworx

0016 Estevan Meter Services

0014 Buffalo Potash What if PO

0015 Latus Viro PO Ad 01

0013 Panther Drilling PO ad 03 top drive rigs

0011

0009

0006 JK Junior

0004 Royal Helium PO Ad 02

9001

0002

0001
The other is inflation. Inflation used to be considered a problem for other countries. It is now a growing international issue.
Internationally, climate change remains only eighth or ninth in importance, depending on the year. Way more issues matter to way more people than climate change.
In terms of whether they agree with the state of their country or the direction of their government, the single question everyone was asked is, "Do you think that things in your country are heading in the right direction, or are they off on the wrong track?"
The average answer is that about 65 per cent of those surveyed believe their country is going the wrong way. Or only 35 per cent, on average, believe things are going well.
As last year ended, the four unhappiest inhabitants were from Peru, Columbia, Argentina and South Africa where an average of 84 per cent thought their country was headed in the wrong direction. The range was 81 to 88 per cent.
The other end of the scale does not lend itself to a simple average.
Only 14 per cent of those surveyed in Saudi Arabia believed things weren't going well. Life is good for at least one country in the Middle East. Or perhaps their phones or internet are monitored by the government.
The next was India at 30 per cent. Surveying 20,000 people from 28 countries and including a single country with 1.3 billion inhabitants is unlikely to lead to accurate data.
Australia was 46 per cent. That means over half think things are OK. Most of the news we get here is how oppressive that country's COVID-19 lockdowns are, and what that has to do with the world's best tennis player who was deported for being unvaccinated.
The six countries ranging from 53 per cent to 59 per cent with an average of 55 per cent were Canada, Israel, Malaysia, Germany, Italy and Mexico. In Canada just over half, or 53 per cent, believed the country was going in the wrong direction.
Canada ranks 24th of 28 on this displeasure scale. In only three of 28 countries do the majority of respondents agree their country is on the right track.
The pandemic changes the order of priorities significantly. When the coronavirus emerged in the spring of 2020, an issue that didn't exist in January was, by April, at the top at 63 per cent. By late last year it was down to 27 per cent. Then along came Omicron, which changed the year-end figures.
At the same time, the lockdowns caused economic and jobs issue to grow. At the end of 2019, the economy and employment were a big worry for only 29 per cent of respondents. Five months later that was up to 42 per cent.
But as the economy has opened up and the recovery expands, this number has declined to historic levels.
Climate change, the issue that has dominated Canadian headlines for years and has been the driver of the significant environmental and economic policies that have polarized Western Canada voters, is a much bigger issue in Canada than most of the other countries in this survey.
Pipeline protests, pipeline cancellations, construction delays, public hearings, public protests, project cancellations, capital exodus, carbon taxes, tanker bans, emissions caps and project regulatory overhauls ‑‑ have been going on for years. The driving factor has been growing public concerns about climate change and political parties that have seized this as a sure way to attract votes in certain regions of the country.
In the detailed Ipsos data for November 2021 when the UN's COP 26 climate conference was underway in Glasgow, it barely moved the needle in terms of importance internationally. It was at 16 per cent in November, then fell back to 15 per cent in December when the yearly data for 2021 was compiled.
In Canada, as noted above, it was important to 31 per cent of respondents. This was second only to Germany at 32 per cent. The countries in which climate change was a "worry" to 25 per cent or more of those surveyed also included Australia, Great Britain, Belgium, France, Netherlands and United States.
The countries where this issue resonated with 10 per cent or less of those surveyed were, in descending order, Chile, Israel, Hungary, Mexico, South Africa, Turkey, Columbia, Malaysia, Brazil, Peru, Argentina and Russia.
Only four per cent of the Russians thought this was something they should be worried about.
Russia is, of course, one of the world's top oil and gas producers and is currently flexing its petro-muscles in Europe over gas supplies and prices.
In Saudi Arabia, the world's largest pure oil producing country, climate change mattered to only 15 per cent of respondents. In India, which imports most of its oil, only 13 per cent ranked this as important.
0023 LC Trucking tractor picker hiring mix

0022 Grimes winter hiring

0021 OSY Rentals S8 Promo

0020 Sk Oil Show PO Ad 02 speakers with voiceover

0019 Jerry Mainil Ltd hiring dugout

0018 IWS Hiring Royal Summer

0017 eventworx

0016 Estevan Meter Services

0014 Buffalo Potash What if PO

0015 Latus Viro PO Ad 01

0013 Panther Drilling PO ad 03 top drive rigs

0011

0009

0006 JK Junior

0004 Royal Helium PO Ad 02

9001

0002

0001
Within Canada, however, the views on this subject are regionally fractured.
Angus Reid Institute released a report Dec. 27 titled, "Five Issues to Watch in 2022."
One of the five questions was, "When you think about the Liberal government's record under Prime Minister Justin Trudeau on climate change, would you say it has been …"
The options were:
"Taking a well-based approach to climate change," abbreviated below as "Well Balanced"
"Pushing too hard to address climate change," abbreviated below as "Pushing Too Hard"
"Doing too little to address climate change," abbreviated below as "Not Enough"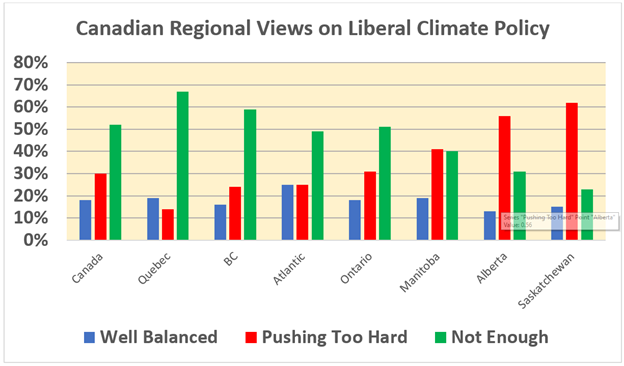 If this looks like the last three federal elections, or the urban/rural divide highlighted in previous columns, it should.
Pretty obvious where the climate votes are, and why policy follows suit.
What is curious is, if there is any province where the weather matters the most, it has to be Saskatchewan and its core agricultural industry.
This data reveals the people who believe the federal government can and must change the weather don't actually depend upon it for a living because they live in urban centers or industrialized regions.
What is interesting, however, is how Canada's fixation on climate change ranks compared to what the major issues are in the rest of the world.
And perhaps, every now and then, we should talk about that.
David Yager is an oil service executive, oil writer and energy policy commentators and analyst. He is currently President and CEO of Winterhawk Casing Expansion Services which is commercializing a new way of mitigating methane emissions from surface casing vent flows. He is author of From Miracle to Menace – Alberta, A Carbon Story. More at www.miracletomenace.ca.
0023 LC Trucking tractor picker hiring mix

0022 Grimes winter hiring

0021 OSY Rentals S8 Promo

0020 Sk Oil Show PO Ad 02 speakers with voiceover

0019 Jerry Mainil Ltd hiring dugout

0018 IWS Hiring Royal Summer

0017 eventworx

0016 Estevan Meter Services

0014 Buffalo Potash What if PO

0015 Latus Viro PO Ad 01

0013 Panther Drilling PO ad 03 top drive rigs

0011

0009

0006 JK Junior

0004 Royal Helium PO Ad 02

9001

0002

0001