Brian Zinchuk is editor and owner of Pipeline Online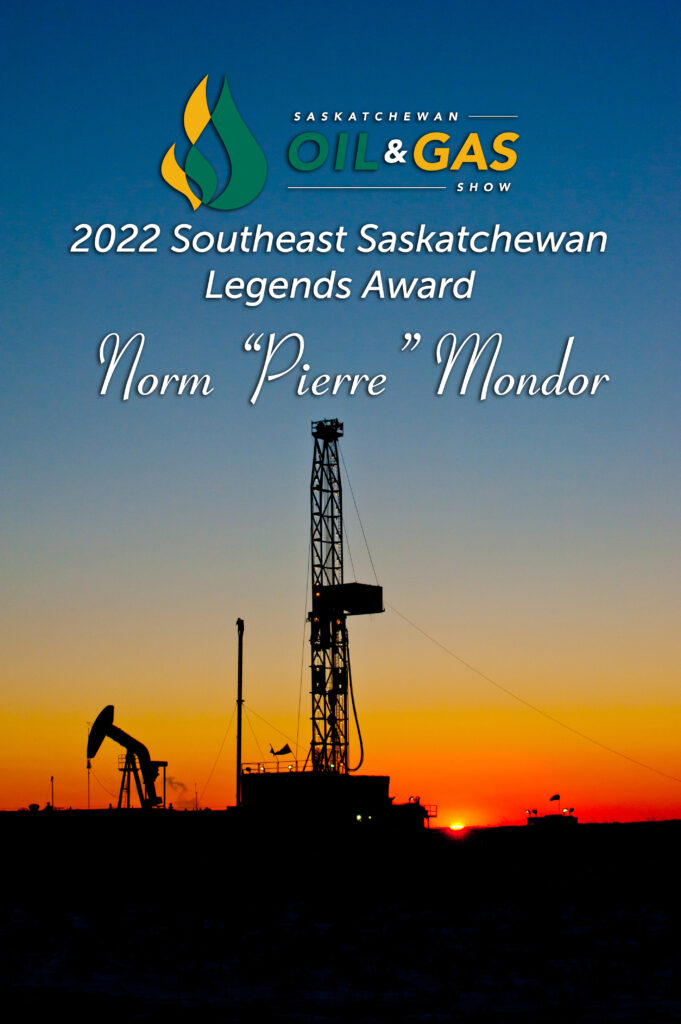 The Saskatchewan Oil and Gas Show, held in Weyburn, is honouring several people as being a Southeast Saskatchewan Legend. The awards will be presented on June 1, and you can get tickets to the event at oilshow.ca. 
Norm 'Pierre' Mondor, now-retired president of Aldon Oils Ltd., was born and raised in Hudson Bay, Saskatchewan, in 1936.
Norm spent his early career in the lumber industry. When the forestry industry took a downturn in 1957, Norm followed rumours of good jobs in the oil industry and headed south, first to Estevan and then to Weyburn.
He started working on service rigs and eventually became the general manager of Addison and Leyen, an international service rig company with operations in Weyburn, Olds, Virden and Williston. At the time that Norm was managing the company, it's operations involved 11 rigs and 50 men.
In 1972, Norm bought Aldon Oils Ltd., which had a single, low-producing stripper well. As one of the few one-man operations at the time, Norm faced many cheers and jeers from people in the industry, but he persevered.
He followed a strict business plan of picking up "fixer-uppers," lower-producing wells that he could make better with his own skill and time. He followed a philosophy of expanding gradually and carefully, taking the time to do his homework to look for good opportunities.
Aldon Oils grew grown steadily over the years and eventually started drilling its own wells. Since their first horizontal drill in 1995, Aldon had grown to a considerable size until Norm sold it to his son Del in 2011. The company has operations in the Midale, Frobisher and Bakken areas, as well as gas plays in Alberta.
Norm retired from the company in 2011.
Under Norm's ownership, Aldon supported many community events and projects in and around Weyburn, as well as providing a living for its local employees and contractors. This tradition continues to this day.
In 2009, Norm was inducted into the Saskatchewan Oil and Gas Hall of Fame.
Norm's son maintains 100 per cent ownership of his company. Norm's career has spanned six decades, almost as long as his marriage to his wife Shirley. He has five children, all of whom have been involved in the business in one way or another. Today, he enjoys his retirement. He and Shirley enjoy spending time with their extended family, children, grandchildren and great-grand children.
Norm Mondor is very much a Southeast Saskatchewan Legend.
If you're basing your business decisions on what's really going on in the Saskatchewan energy sector, you need in-depth stories like this that you won't find anywhere else. No other media digs as deep into the oilpatch in Saskatchewan as Pipeline Online. Follow Pipeline Online on LinkedIn, Twitter or Facebook.
9002 Pipeline Online 30 sec EBEX

9002 Pipeline Online 30 sec EBEX

0056 OSY Rentals Hockey Draft 2023

0056 OSY Rentals Hockey Draft 2023

0055 Smart Power Be Smart with your Power office

0055 Smart Power Be Smart with your Power office

0015 Latus Viro

0015 Latus Viro

0054 SIMSA Energy Forum

0054 SIMSA Energy Forum

0053 Kingston Midstream Westspur Alameda

0053 Kingston Midstream Westspur Alameda

0052 Predator Inspections

0052 Predator Inspections

0051 JML Hiring Pumpjack assembly

0051 JML Hiring Pumpjack assembly

0049 Scotsburn Dental soft guitar

0049 Scotsburn Dental soft guitar

0046 City of Estevan This is Estevan

0046 City of Estevan This is Estevan

0043 ALX ten sizes

0043 ALX ten sizes

0039 Summit ESP Saskatchewan lower third

0039 Summit ESP Saskatchewan lower third

0041 DEEP Since 2018 now we are going to build

0041 DEEP Since 2018 now we are going to build

0032 IWS Summer hiring rock trailer music

0022 Grimes winter hiring

0021 OSY Rentals S8 Promo

0018 IWS Hiring Royal Summer

0013 Panther Drilling PO ad 03 top drive rigs

0011

0006 JK Junior

0004 Royal Helium PO Ad 02

9001

0002