Brian Zinchuk is editor and owner of Pipeline Online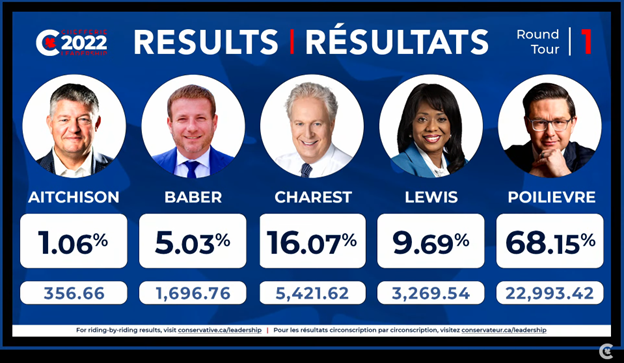 Pierre Poilievre walked away with the leadership of the Conservative Party of Canada on Sept. 10, taking more than two thirds of the points despite being one of five candidates. Poilievre brought in 68.15 per of the points.
It's "points," because the leadership race was a convoluted system of each riding getting 100 points, meaning that a riding which had only 400 members would have an equal influence on the final outcome as a riding with 10,000 members. The closest runner up was former Liberal premier of Quebec, Jean Charest, who brought in only 16 per cent of the points.
Here's are the points he made about energy and carbon taxes in his speech: he said about energy in his speech
"Now, they plan to triple the carbon tax on gas, heat and everything else," he said.
"It means fighting climate change with technology and not with taxes."
0040 Southeast College safety tickets

0040 Southeast College safety tickets

0036 Prairie Lithium - Chad Glemser 30 Sec

0033 Buffalo Potash Jared Small Footprint

0032 IWS Summer hiring rock trailer music

0029 Latus Viro updated Latus phone

0025 Kendalls

0026 Buffalo Potash Quinton Salt

0023 LC Trucking tractor picker hiring mix

0022 Grimes winter hiring

0021 OSY Rentals S8 Promo

0019 Jerry Mainil Ltd hiring dugout

0018 IWS Hiring Royal Summer

0014 Buffalo Potash What if PO

0013 Panther Drilling PO ad 03 top drive rigs

0011

0006 JK Junior

0004 Royal Helium PO Ad 02

9001

0002
Poilievre said, "Let's remove the government gatekeepers to build more homes grow more food and produce more energy, right here in Canada.
"Speaking of speaking of homes, we must make stuff here at home again, here in Canada. Look, trade is great. Trade is just great. What we learned during COVID is that we can't count on the rest of the world to take care of us. That is why we must be the best place on earth for workers and businesses to build factories, mine critical minerals for electric cars and develop other resources right now. We lose wages because we import 130,000 barrels of overseas oil, mostly from dictators, every single day even though we have the third largest supply right here in Canada. And that is all because our government prefers dirty dictator oil to responsible Canadian energy.
"We will repeal this government's anti-energy laws and replace them with a law that protects our environment, consults First Nations and gets things built.
"We will greenlight Newfoundland and Labrador's planned increase in oil production, which will allow us to fully replace every single barrel of oil we're importing from abroad. And within five years, we will set the goal to end dictator oil in Canada altogether.
In French, he said, "On natural gas, he said, "Rather than helping Putin to finance his war against Ukraine, a Poilievre government will support projects like the LNG project in Quebec and hydroelectricity that can be used to liquefy natural gas without emissions. Europe needs energy. Here is the choice. Some people prefer that the money from natural gas be used to support the payment of arms by Putin. What I want is to be able to support Jean (unintelligible), a welder in Saguenay."
That was a not so subtle reference to the now-defunct liquified natural gas project known as Energie Saguenay, a LNG project that was killed off by Quebec provincial government both the federal Liberal government, just prior to the invasion of Ukraine.
Back in English, he continued, "We will greenlight  mining and manufacturing of minerals like lithium, cobalt and copper to make our electric cars and batteries. we will allow for technology to be unleashed here instead of our money to go to foreign dictatorships, and that also includes repatriating food production by standing with our farmers here at home.
Later on, Poilievre said, "This government's high energy taxes and proposed fertilizer types will only drive food production abroad, to polluting foreign jurisdictions, which would have to then burn fuel to ship, train and truck that food back to us. But didn't we learn how irresponsible it was to rely on the rest of the world to provide us with our essentials during COVID? A Poilievre government will repeal these taxes and fertilizer mandates to get out of the way and off the backs of our farmers so that we can grow affordable food feed our people and be the breadbasket of the world."
Many of these elements of his speech were parts of his stump speech, which was heard several times in Saskatchewan. On June 1, Poilievre attended the Saskatchewan Oil and Gas Show. Here was his speech then:
And on Aug. 3, Poilievre spoke at a farm near Estevan instead of attending the final leadership debate that day. This was his speech at Estevan:
0040 Southeast College safety tickets

0040 Southeast College safety tickets

0036 Prairie Lithium - Chad Glemser 30 Sec

0033 Buffalo Potash Jared Small Footprint

0032 IWS Summer hiring rock trailer music

0029 Latus Viro updated Latus phone

0025 Kendalls

0026 Buffalo Potash Quinton Salt

0023 LC Trucking tractor picker hiring mix

0022 Grimes winter hiring

0021 OSY Rentals S8 Promo

0019 Jerry Mainil Ltd hiring dugout

0018 IWS Hiring Royal Summer

0014 Buffalo Potash What if PO

0013 Panther Drilling PO ad 03 top drive rigs

0011

0006 JK Junior

0004 Royal Helium PO Ad 02

9001

0002