Brian Zinchuk is editor and owner of Pipeline Online
The intensity of discontent with the Coastal GasLink project has just ratcheted up several notches, with the apparent rampant damage of a work camp for the project during the night of Wednesday to Thursday, Feb. 16-17.
Coastal GasLink released the following statement, and a gallery of photos of the damage. In those photos, two rock trucks were severely damaged, an excavator was laid on its side, as was a loader. Several shacks were torn up, and pickup trucks had holes in their quarter panels roughly the side of an axehead. A photo of an axe allegedly recovered at the site was included.
This is the statement, issued on Feb. 17 by Coastal GasLink:
During the early morning hours of Feb. 17, 2022, approximately 20 masked and violent attackers wearing camouflage surrounded and attacked Coastal GasLink workers in a highly planned and dangerous unprovoked assault. It happened near the Morice River drill pad site off the Marten Forest Service Road — the location of a former blockade and opposition camp last year that lasted 59 days. This coordinated and criminal attack from multiple directions threatened the lives of several workers. In one of the most concerning acts, an attempt was made to set a vehicle on fire while workers were inside. The attackers also wielded axes, swinging them at vehicles and through a truck's window. Flare guns were also fired at workers. Workers fled the site for their own safety and remain shaken by this violent incident. Fortunately, there were no physical injuries to Coastal GasLink workers.

The attackers used grinders to cut locks on a permitted gate to the active construction site and continued to vandalize and attack heavy equipment and construction trailers on-site, causing millions of dollars in damage to Coastal GasLink contractor equipment and property. Equipment hydraulic and fuel lines were also cut, causing dangerous leaks. Damage and environmental impacts are still being assessed. We are working to contain and clean up the environmental damage caused by the attackers. We also understand the attackers felled trees, placed tire spikes and lit fires on roads in an effort to impede access to the remote worksite.

The protection of people and the environment is paramount and we are taking a number of actions to address this incident. RCMP were called to the scene, and we understand a criminal investigation is underway. On behalf of our workers, we encourage a full investigation of those involved in the violent attack. The company is also asking for anyone with information about the attack to contact the RCMP.

As this situation evolves, we remain in close contact with our prime contractor and workforce. Our work is lawful, authorized, fully permitted and has the unprecedented support of local and Indigenous communities and agreements in place with all 20 elected First Nation councils across the 670 km route. Coastal GasLink is almost 60 per cent complete
LNG Canada, for whom the pipeline is ultimately being built, released the following statement:
LNG Canada strongly condemns the dangerous and unlawful attack on people, property and equipment that took place at a Coastal GasLink worksite in the early hours of Thursday, February 17th. We respect people's right to conduct peaceful protest and understand that not everyone will support our projects, but intimidation of workers, impacts to the environment, and destruction of property and equipment goes far beyond protest and disagreement and is not something we as British Columbians and Canadians can ever condone.The safety and well-being of our workforce and those in the surrounding communities has always been LNG Canada's top priority. We stand with Coastal Gaslink and offer our support and well wishes to the workers who were affected while simply trying to do their jobs, support their families and contribute to this important project.

Every worker has the right to a safe workplace free from violence, bullying, harassment and aggressive behaviour. Every worker has the right to go home to their families safely and free from injury, including psychological harm.

We know this attack does not reflect the views and opinions of the majority of those in the local communities. We would like to acknowledge the support of elected and hereditary leadership spanning 20 First Nations along the pipeline route, and the support from many other communities and individuals who have been engaged with this project since its inception.

Together, we are building a project that will deliver significant benefits for Indigenous communities, British Columbians and Canadians.
0045 WBPC 2023 Bright Colors P

0045 WBPC 2023 Bright Colors P

0044 PTRC CCUS Aquistore

0044 PTRC CCUS Aquistore

0043 ALX ten sizes

0043 ALX ten sizes

0042 Sask Oilfield Services

0042 Sask Oilfield Services

0039 Summit ESP Saskatchewan lower third

0039 Summit ESP Saskatchewan lower third

0041 DEEP Since 2018 now we are going to build

0041 DEEP Since 2018 now we are going to build

0040 Southeast College safety tickets

0040 Southeast College safety tickets

0033 Buffalo Potash Jared Small Footprint

0032 IWS Summer hiring rock trailer music

0029 Latus Viro updated Latus phone

0025 Kendalls

0026 Buffalo Potash Quinton Salt

0023 LC Trucking tractor picker hiring mix

0022 Grimes winter hiring

0021 OSY Rentals S8 Promo

0019 Jerry Mainil Ltd hiring dugout

0018 IWS Hiring Royal Summer

0014 Buffalo Potash What if PO

0013 Panther Drilling PO ad 03 top drive rigs

0011

0006 JK Junior

0004 Royal Helium PO Ad 02

9001

0002
British Columbia RCMP said in a release, "On Thursday, February 17, 2022, shortly after midnight, Houston RCMP was called to the Marten Forest Service Road (FSR) after Coastal Gas Link (CGL) security reported acts of violence at their work site.
"It was reported approximately 20 people, some armed with axes, were attacking security guards and smashing their vehicle windows. It was initially reported that some CGL employees were trapped, but all had managed to safely leave the area.
"Upon police attendance at the 41 km mark, the roadway had been blocked with downed trees, tar covered stumps, wire, boards with spikes in them, and fires had been lit throughout the debris. As police worked their way through the debris and traps, several people threw smoke bombs and fire lit sticks at the police, injuring one officer.
"At the 43 km mark, an old school bus blocked the road. No one was located in this area and with the assistance of CGL, the bus was cleared from the road and police continued on.
"When police arrived at the drill pad at the 63 km mark, they found significant damage had been done to heavy machinery, fencing, and portable buildings. Police did not encounter any further blockades or protestors as they made their way to the drill pad nor did they locate anyone at the site."
Mike Farnworth, British Columbia Minister of Public Safety and Solicitor General, has released the following statement in response to recent violence at a CGL work site:
"The B.C. Government emphatically condemns the violence and destruction perpetrated near the Morice River drill pad site off the Marten Forest Service Road.
"The RCMP is conducting a full investigation into this egregious criminal activity that could have led to serious injury or loss of life.
"The police report indicates that the workers' camp was attacked in the middle of the night by unknown assailants wielding axes.
"There is no excuse for such violence and intimidation. All workers deserve to be protected from harassment and harm.
"This destructive attack should be condemned by all in British Columbia."
These are the photos provided by Coastal GasLink on Feb. 17:
Location of camp: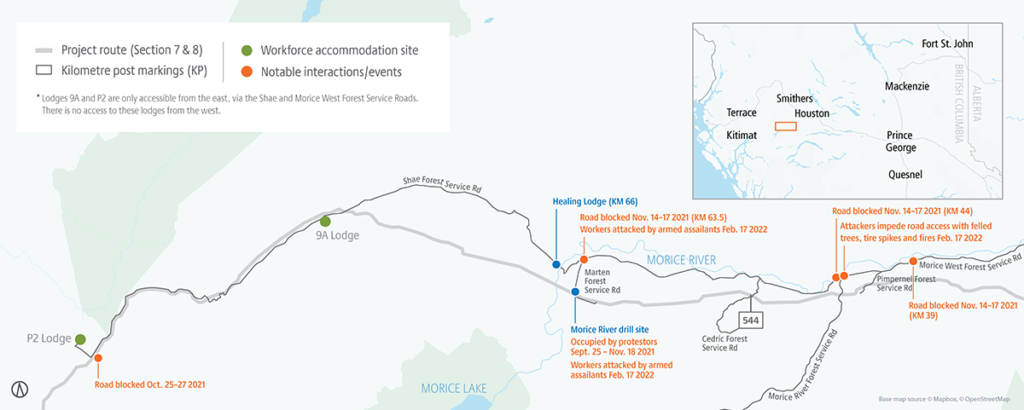 0045 WBPC 2023 Bright Colors P

0045 WBPC 2023 Bright Colors P

0044 PTRC CCUS Aquistore

0044 PTRC CCUS Aquistore

0043 ALX ten sizes

0043 ALX ten sizes

0042 Sask Oilfield Services

0042 Sask Oilfield Services

0039 Summit ESP Saskatchewan lower third

0039 Summit ESP Saskatchewan lower third

0041 DEEP Since 2018 now we are going to build

0041 DEEP Since 2018 now we are going to build

0040 Southeast College safety tickets

0040 Southeast College safety tickets

0033 Buffalo Potash Jared Small Footprint

0032 IWS Summer hiring rock trailer music

0029 Latus Viro updated Latus phone

0025 Kendalls

0026 Buffalo Potash Quinton Salt

0023 LC Trucking tractor picker hiring mix

0022 Grimes winter hiring

0021 OSY Rentals S8 Promo

0019 Jerry Mainil Ltd hiring dugout

0018 IWS Hiring Royal Summer

0014 Buffalo Potash What if PO

0013 Panther Drilling PO ad 03 top drive rigs

0011

0006 JK Junior

0004 Royal Helium PO Ad 02

9001

0002
Related story: