Brian Zinchuk is editor and owner of Pipeline Online
If you were sitting Sunday afternoon, letting the turkey digest, so too was wind in Alberta taking a rest. And if your turkey was in the oven for supper, it wasn't getting cooked by wind power.
According to the Alberta Electric System Operator, at 3:17 p.m. on Sunday, Oct. 9, that province's grid saw wind power production drop to just 3 megawatts, out of 2,734 megawatts of nameplate capacity across 29 wind farms. That's one tenth of one per cent, or one one-thousandth of total wind capacity.
It was also 3 ten-thousands of total electrical generation across the entire Alberta grid.
It wasn't that long ago that wind had dropped to 5 megawatts. Indeed, it was just the night before, at 9:18 p.m., 16 hours earlier.
0037 TED_DEEP_30_

0036 Prairie Lithium - Chad Glemser 30 Sec

0035 TED - Whitecap

0034 TED_NA Helium 2021

0033 Buffalo Potash Jared Small Footprint

0032 IWS Summer hiring rock trailer music

0029 Latus Viro updated Latus phone

0027 TED_NA Helium 2021_30

0025 Kendalls

0026 Buffalo Potash Quinton Salt

0023 LC Trucking tractor picker hiring mix

0022 Grimes winter hiring

0021 OSY Rentals S8 Promo

0019 Jerry Mainil Ltd hiring dugout

0018 IWS Hiring Royal Summer

0014 Buffalo Potash What if PO

0013 Panther Drilling PO ad 03 top drive rigs

0011

0006 JK Junior

0004 Royal Helium PO Ad 02

9001

0002
And it stayed at that level for at least an hour. Despite the flatline wind power production, the four battery storage facilities in Alberta were not being called upon to provide power to the grid. According to Dispatcho.app, which documents AESO data, not one of the four battery facilities were used during the previous 24 hours.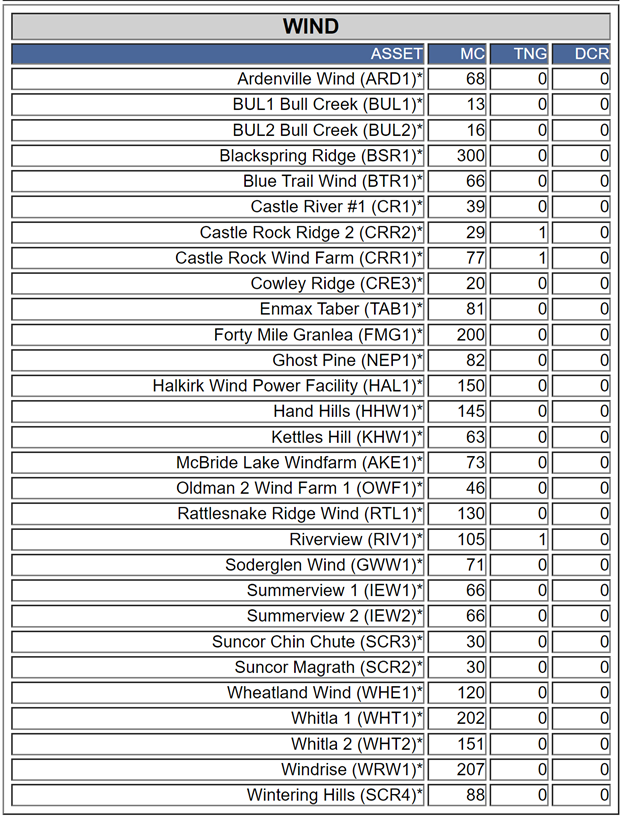 Only three of the 29 wind farms were producing any power whatsoever. And they were each putting out only one megawatt a piece.
Solar power was making up for some of the shortfall, as it was producing 782 megawatts at the time. Much of that came from the Travers solar facility, which was producing around 424 of its 465 megawatt capacity. That plant recently brought fully online.
0037 TED_DEEP_30_

0036 Prairie Lithium - Chad Glemser 30 Sec

0035 TED - Whitecap

0034 TED_NA Helium 2021

0033 Buffalo Potash Jared Small Footprint

0032 IWS Summer hiring rock trailer music

0029 Latus Viro updated Latus phone

0027 TED_NA Helium 2021_30

0025 Kendalls

0026 Buffalo Potash Quinton Salt

0023 LC Trucking tractor picker hiring mix

0022 Grimes winter hiring

0021 OSY Rentals S8 Promo

0019 Jerry Mainil Ltd hiring dugout

0018 IWS Hiring Royal Summer

0014 Buffalo Potash What if PO

0013 Panther Drilling PO ad 03 top drive rigs

0011

0006 JK Junior

0004 Royal Helium PO Ad 02

9001

0002