Brian Crossman is a partner in Estevan-based Independent Well Servicing.
When Brian Zinchuk asked me to write for the Pipeline Online, I was honored, grateful and also very excited. This would be my opportunity to give opinions, thoughts, criticisms and praise to my colleagues in the industry. Of course I immediately wondered, "What the hell is my first article going to be about?"
I am chock full of opinions (People also say I'm full of something else a lot of the time) and trying to gather my thoughts seemed a bit self-serving for my first article. If you follow the news, there is enough material to criticize until the cows come home. It's just too easy to be that guy right now. (Trust me I am that guy A LOT) So let's try praise. I think Mr. Zinchuk and our industry deserves a nice positive way to start off my first submission to the new Pipeline Online.
The last seven-plus years have been interesting to say the least. Companies have failed, money, capital and effort has vanished. Good, experienced hard-working men and women have left the industry, many of them forever. This paints a less-than pretty picture for all of us.
However, we have also seen inspiration, based on innovation and perspiration. The leaders in our industry just won't give up or quit. Crescent Point Energy continues to expand in Alberta, and improving on water flooding in Southeast Saskatchewan to maintain formation pressure. Whitecap Resources, led by Grant Fagerheim (Estevan born and raised, by the way) has continued with CO2 flooding along with purchasing high-value assets to improve shareholder value. Saturn Oil & Gas purchased a large field with plans to reduce liability and improve production. Surge Energy is re-entering southeast Sask with the purchase of Astra Oil Corp. Vermilion continues to improve their assets as well. CNRL isn't going away, either. Tundra sure isn't letting up, nor is Allied Energy. There are many more. These are exciting times to be sure.
Don't forget about all the smaller, but equally important oil companies. Midale Petroleums (The Clearwater family) continues to drill every year, as does Firesky, Hummingbird, and Villanova along with many others. (My apologies to all that I didn't mention) We are not giving up on oil and gas any time soon.
Now for some more praise: we, right here in Saskatchewan, have some very innovative, exceptional people using oilfield technology, know-how mixed with a whole lot of grit and determination to help forge an exciting future for this province. I'll start with Deep Earth Energy Production (DEEP). Kirsten Marcia (again, another Estevan alumni) and here band of innovative and hard-working people are well on their way to having a huge geothermal project out at Torquay, Saskatchewan, in large part using oilpatch equipment and expertise.
0060 Arizona Lithium Lease building

0060 Arizona Lithium Lease building

0059 Southeast College Heavy Equipment Operator

0059 Southeast College Heavy Equipment Operator

0058 Royal Helium Steveville opens anonymous rocket

0058 Royal Helium Steveville opens anonymous rocket

9002 Pipeline Online 30 sec EBEX

9002 Pipeline Online 30 sec EBEX

0055 Smart Power Be Smart with your Power office

0055 Smart Power Be Smart with your Power office

0015 Latus Viro

0015 Latus Viro

0052 Predator Inspections

0052 Predator Inspections

0051 JML Hiring Pumpjack assembly

0051 JML Hiring Pumpjack assembly

0049 Scotsburn Dental soft guitar

0049 Scotsburn Dental soft guitar

0046 City of Estevan This is Estevan

0046 City of Estevan This is Estevan

0043 ALX ten sizes

0043 ALX ten sizes

0039 Summit ESP Saskatchewan lower third

0039 Summit ESP Saskatchewan lower third

0041 DEEP Since 2018 now we are going to build

0041 DEEP Since 2018 now we are going to build

0032 IWS Summer hiring rock trailer music

0022 Grimes winter hiring

0021 OSY Rentals S8 Promo

0018 IWS Hiring Royal Summer

0013 Panther Drilling PO ad 03 top drive rigs

0011

0006 JK Junior

9001

0002
Next up, Prairie Lithium. Zach Maurer, a product of Weyburn, has developed an ingenious method to extract lithium from the salt water in the Bakken and possibly other zones. I'm pretty sure the world needs lithium, and it's even better when not mined in huge open pits that create more environmental problems than I care to discuss today. Zach and his team are truly an inspirational Saskatchewan success story.
Helium, it's not just for balloons anymore. Laboratory, hospital diagnostic equipment, high tech and space travel all require it. Andrew Davidson and his team at Royal Helium are currently exploring and developing properties that most certainly have viable helium production. They, along with North American Helium, are poised to share a huge piece of the helium market. Right here in good old Saskatchewan.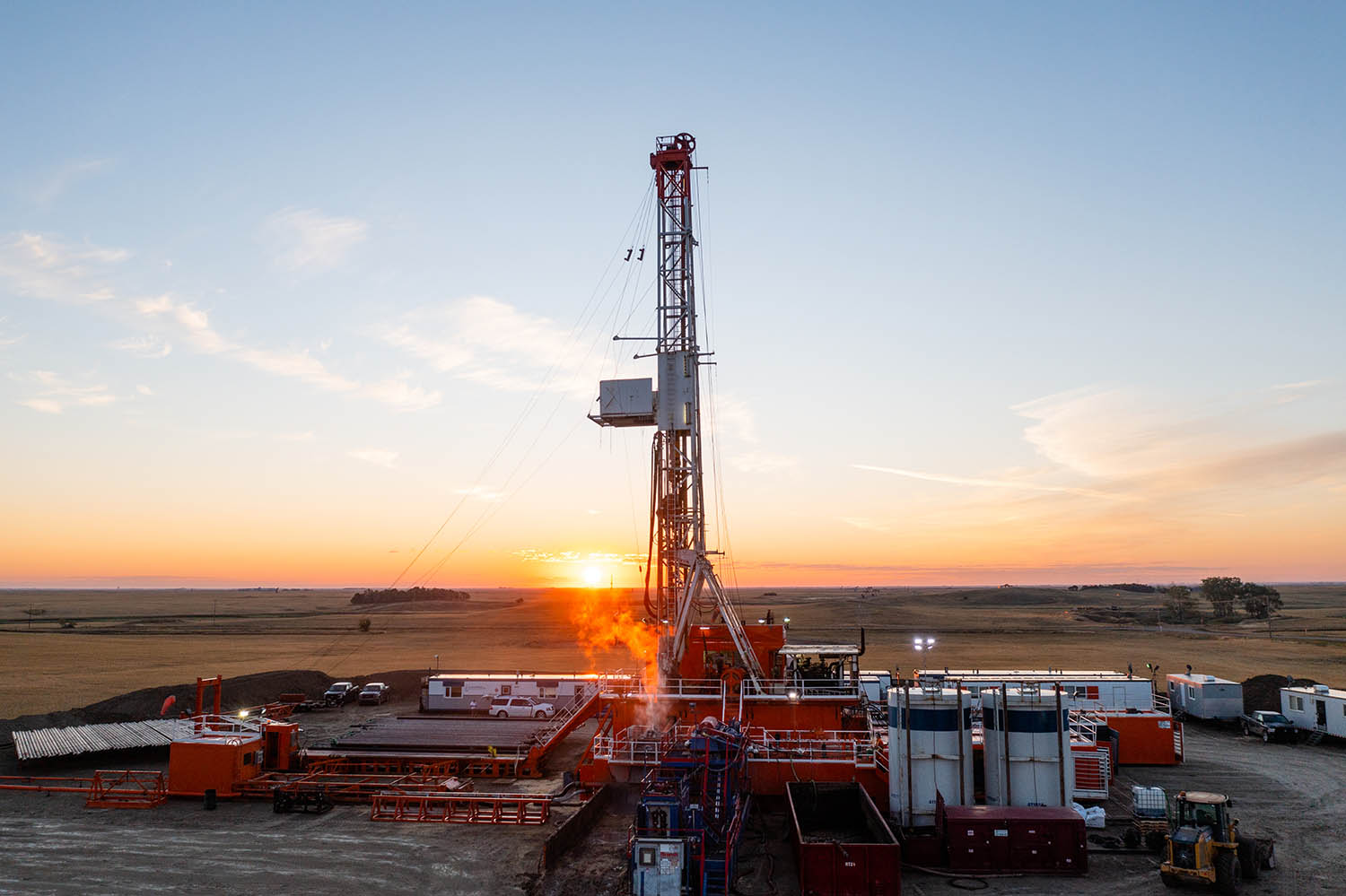 What can be more inspirational than a sunrise over a drilling rig in southeast Saskatchewan? In this case, it's Panther Drilling Rig 2, working on Deep Earth Energy Production's Border-6 geothermal well. Photo by Brian Zinchuk
Let's not forget to mention Buffalo Potash, a group of great people with a ton of experience ranging from oil and gas, mining and potash. Quinton Hardage, Steve Halabura and Jared Galenzoski are developing new technology to solution mine potash in a very cost-effective way. Working with the City of Estevan, Ocean Man First Nation and a group of investors, they are certainly bound for success. Again, these are exciting times for our province.
There are certainly many others that I have not mentioned my sincere apologies for that. There are many drilling, service and construction companies that continue to bust ass and crush it every day. The true inspiration is all the men and women that have not given up on the energy industry, along with all the young workers that are willing to give it a try. I know with some effort, and a little hard work, you all will have prosperous careers in the industry we all love.
And finally, high praise to Brian Zinchuk, a man of many talents (writing, photography, video work just to name a few). Brian has always been and will continue to be our industries' biggest advocate and cheerleader by launching Pipeline Online, after 12 years editing Pipeline News. His ability to report the industry's news in a positive, inspirational way is greatly appreciated by us all. My thanks for all Brian has done in the past, and for all he will continue to do in the future. When I sit back and look at all these very inspirational people and their stories, I am excited for the future of Saskatchewan and Canada for that matter. But, you don't necessarily have to start a new company or save the world. Start right in your small circle of family and friends. So get out there people. Go inspire someone.
Brian Crossman lives in Estevan, where he is a partner at Independent Well Servicing.
0060 Arizona Lithium Lease building

0060 Arizona Lithium Lease building

0059 Southeast College Heavy Equipment Operator

0059 Southeast College Heavy Equipment Operator

0058 Royal Helium Steveville opens anonymous rocket

0058 Royal Helium Steveville opens anonymous rocket

9002 Pipeline Online 30 sec EBEX

9002 Pipeline Online 30 sec EBEX

0055 Smart Power Be Smart with your Power office

0055 Smart Power Be Smart with your Power office

0015 Latus Viro

0015 Latus Viro

0052 Predator Inspections

0052 Predator Inspections

0051 JML Hiring Pumpjack assembly

0051 JML Hiring Pumpjack assembly

0049 Scotsburn Dental soft guitar

0049 Scotsburn Dental soft guitar

0046 City of Estevan This is Estevan

0046 City of Estevan This is Estevan

0043 ALX ten sizes

0043 ALX ten sizes

0039 Summit ESP Saskatchewan lower third

0039 Summit ESP Saskatchewan lower third

0041 DEEP Since 2018 now we are going to build

0041 DEEP Since 2018 now we are going to build

0032 IWS Summer hiring rock trailer music

0022 Grimes winter hiring

0021 OSY Rentals S8 Promo

0018 IWS Hiring Royal Summer

0013 Panther Drilling PO ad 03 top drive rigs

0011

0006 JK Junior

9001

0002