Brian Zinchuk is editor and owner of Pipeline Online
ESTEVAN – Today, Jan. 7, is what in Saskatchewan is commonly called "Ukrainian Christmas." Really, it's the celebration of Christmas based on the Julian calendar, followed by the Ukrainian and Russian Orthodox Churches.
The big event is Christmas Eve, on Jan. 6, with its 12 traditional meatless dishes. But this year, due to the war in Ukraine which started last February, there are a lot more Ukrainians who have celebrated their first Christmas here, in Canada.
The Sunflower Network is a group of volunteers across Saskatchewan (and a few in elsewhere in Canada) who came together to help Ukrainian refuges find homes here. Steve Halabura, a geologist who is CEO of junior potash miner Buffalo Potash, got the ball rolling with a column that appeared in Pipeline Online where he pledged to help one family come and settle here, and called on others to do the same. That led to a group of around 20 who have been meeting online once a week, coordinating efforts. Most of those volunteers are business owners, but some are involved with Southeast Newcomer Services.
A large portion of those efforts became concentrated in southeast Saskatchewan, specifically in Estevan, as well as Saskatoon, with the Saskatoon Open Door Society. And on Dec. 19, they were able to put together a Christmas party at the Western Star Inn & Suites in Estevan. A wedding followed the next day.
There's also been a few babies born, here on Canadian soil.
0041 DEEP Since 2018 now we are going to build

0041 DEEP Since 2018 now we are going to build

0040 Southeast College safety tickets

0040 Southeast College safety tickets

0036 Prairie Lithium - Chad Glemser 30 Sec

0033 Buffalo Potash Jared Small Footprint

0032 IWS Summer hiring rock trailer music

0029 Latus Viro updated Latus phone

0025 Kendalls

0026 Buffalo Potash Quinton Salt

0023 LC Trucking tractor picker hiring mix

0022 Grimes winter hiring

0021 OSY Rentals S8 Promo

0019 Jerry Mainil Ltd hiring dugout

0018 IWS Hiring Royal Summer

0014 Buffalo Potash What if PO

0013 Panther Drilling PO ad 03 top drive rigs

0011

0006 JK Junior

0004 Royal Helium PO Ad 02

9001

0002
Brian and Valorie Crossman have been leading efforts most recently in Estevan, doing everything from picking up mattress to arranging and furnishing apartments and picking up the newly landed refugees from the Regina airport. Similar work has been done by Aleksandra Szlapapacka, Corey Casemore, Josh Biggs, Twyla Ferron, Debbie Hagel and Darcy McCormick (in Weyburn) and others over the past year.
Brian Crossman said on Jan. 6, "We've touched the lives of 22 families, either a little bit or a lot, depending on how it worked out. Whether it was something as simple as buying a few things, or something like we've furnish their house, picked them up the airport and had food in the house, brought them here and helped them find jobs.
"So it's varying stages of help they've been given. It just depends. And that that Christmas party, we had when we had a lot of families there – lots of kids – which was wonderful. And we gave a presents and fed them pizza."
And if that wasn't enough, the Crossmans noted during the party that a similar number of people are expected to come to Estevan in the coming months. While the group has helped some with flights, in more recent months, provincial government has been bringing in flights, easing that burden. Others have paid their own way to get here.
"We've got a family coming on the 17th. They are flying themselves, as far as I know they can do it," Brian said.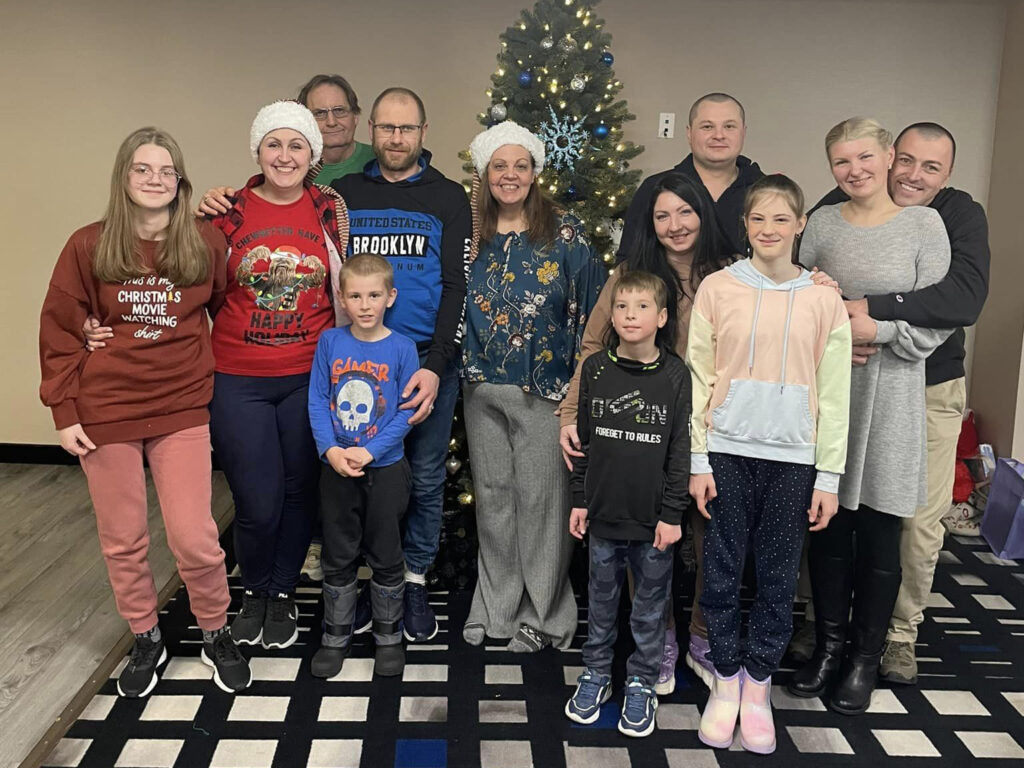 "It a mom, dad, 22 and 21 year-olds, pretty much adults, and a 12 year old," he said. One's a computer programmer, another is a drone specialist, he noted.
Others have had a wide range of skills, from truck drivers and welders, to medical specialists and even a horticulturalist.
While the group does have some new volunteers, including from some of the newcomers, themselves, they could absolutely use more. In some cases it could be picking up people from the airport. But more mundane tasks like providing refugees with rides to medical appointments or even to work in this cold winter weather are all needed.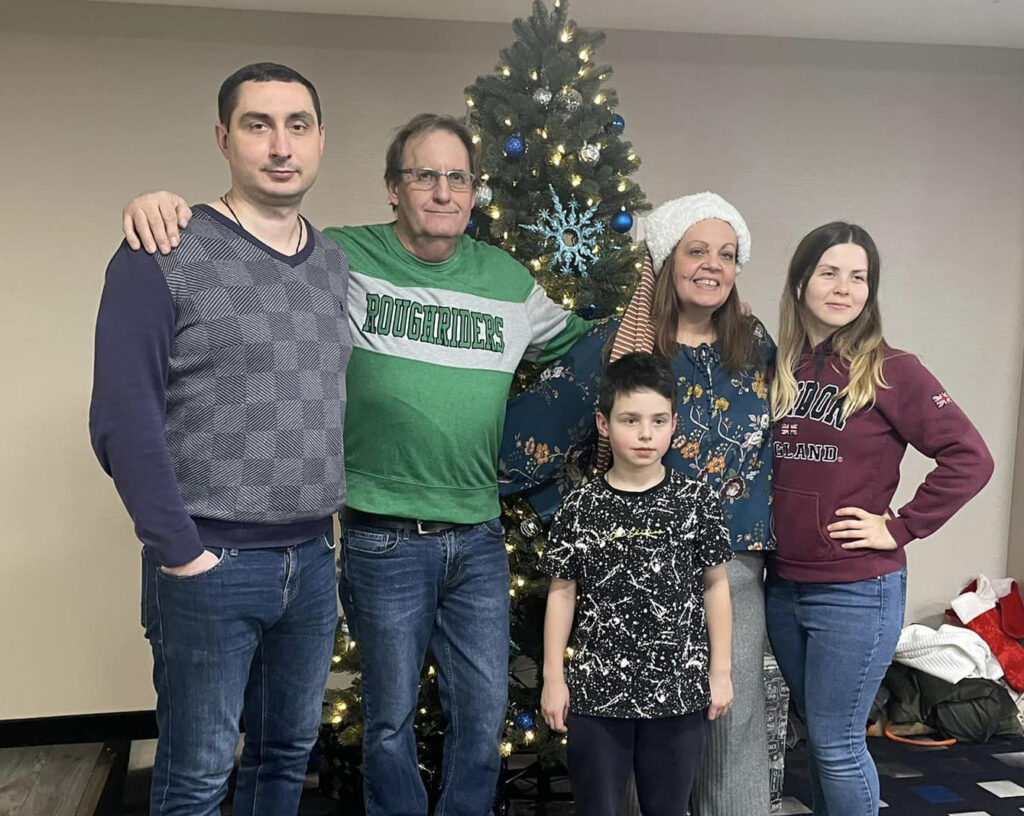 And the refugees have been eager to work, and establish themselves here. Several now work in the oilpatch, for instance. The aforementioned Western Star has hired several.
Similar efforts have been going on in Saskatoon and
Halabura said on Jan. 7, "Sunflower Network is shifting from bringing people here to helping them here. We provided 21 Christmas hampers in Saskatoon."
"The need remains. Aid agencies are doing what they can, but there's always challenges."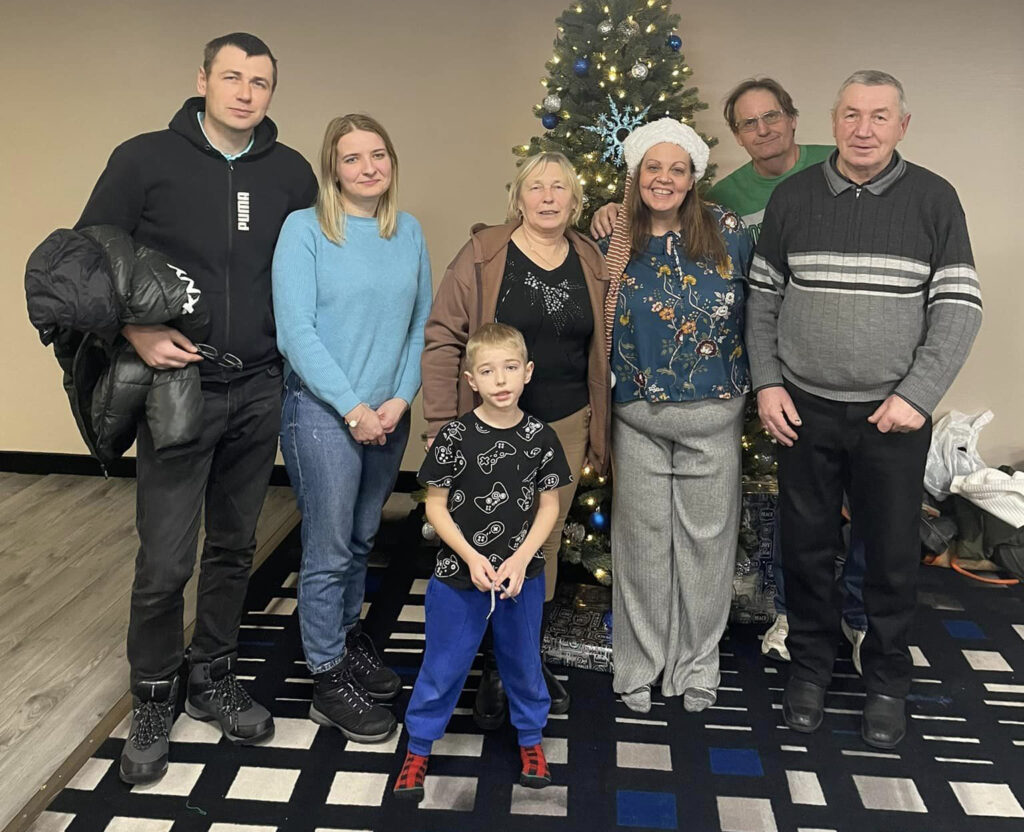 In Saskatoon, the group has had the assistance of the Open Door Society and Ukrainian Canadian Congress.
Funding for Sunflower Network's efforts have come largely from donations, fundraising, and volunteers' own pockets. Donations can be made through the group's website, https://www.sunflowernetwork.ca/ . There's a donation link on there, which in done through the Rosetown Community Church in cooperation with the Rheaume Family Foundation. Taxable receipts are issued at the end of the year.
Halabura said, "The war isn't over, and probably won't be over in the near term. I think there will be more refugees, more people fleeing the situation."
0041 DEEP Since 2018 now we are going to build

0041 DEEP Since 2018 now we are going to build

0040 Southeast College safety tickets

0040 Southeast College safety tickets

0036 Prairie Lithium - Chad Glemser 30 Sec

0033 Buffalo Potash Jared Small Footprint

0032 IWS Summer hiring rock trailer music

0029 Latus Viro updated Latus phone

0025 Kendalls

0026 Buffalo Potash Quinton Salt

0023 LC Trucking tractor picker hiring mix

0022 Grimes winter hiring

0021 OSY Rentals S8 Promo

0019 Jerry Mainil Ltd hiring dugout

0018 IWS Hiring Royal Summer

0014 Buffalo Potash What if PO

0013 Panther Drilling PO ad 03 top drive rigs

0011

0006 JK Junior

0004 Royal Helium PO Ad 02

9001

0002