Brian Zinchuk is editor and owner of Pipeline Online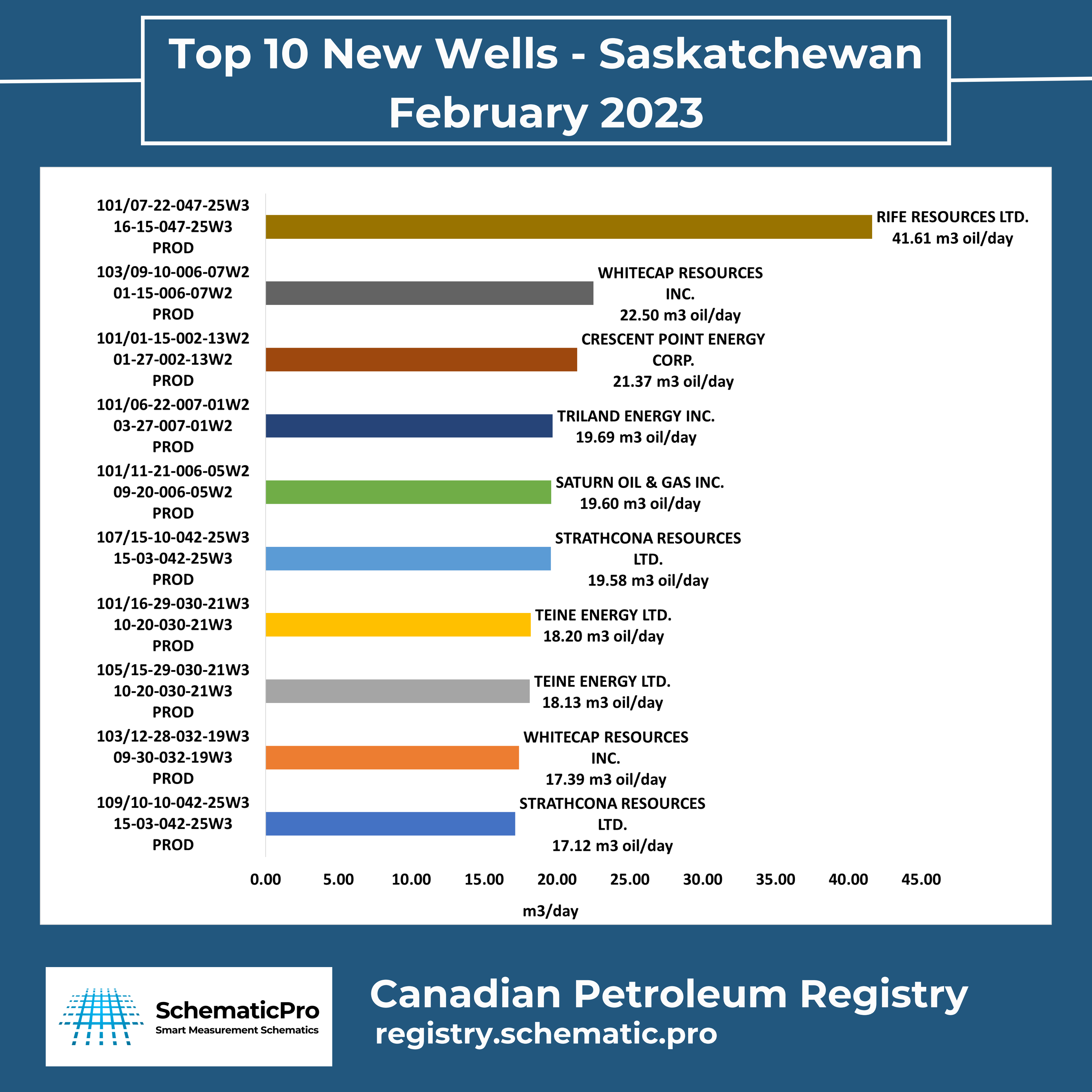 Top 10 new wells in Saskatchewan for February. BlincSoftware
BlincSoftware put together this graphic from data provided by the Saskatchewan Ministry of Energy and Resources. Much more detailed information can be found at BlincSoftware's Canadian Petroleum Registry.
Six of these wells, including the No. 1 well, were drilled on the western side of the province. The fact that significant numbers of the top producers were on both the eastern and western sides of the province perhaps is a testament of the diversity of Saskatchewan's oil resource base,
Rife Resources Ltd.'s 101/07-22-047-25-W3 16-15-047-25-W3 well came in tops at 41.61 cubic metres of oil per day, or 261.7 barrels per day. That well was two miles east of Lashburn along Highway 16, and three miles south of the highway.
The next four wells are all on the eastern side of the province, with one each for Whitecap Resources, Crescent Point Energy Corp., Triland Energy Inc. and Saturn Oil and Gas.
The No. 2 well, Whitecap's 103/109-10-006-07-W2 01-15-006-07-W2 is located two miles east of Benson.
Crescent Point's No. 3 well, 101/01-15-002-13-W2 01-27-002-13-W2, is right along Highway 18, just south of Bromhead.
Triland Energy's 101/06-22-007-01-W2 03-27-007-01-W2 is two miles southeast of Manor.
And the No. 5 well, Saturn's 101/11-21-006-05-W2 09-20-006-05-W2 is three miles north of the Browning townsite.
The remaining wells are all on the western side of the province, with Strathcona Resources Ltd. having two, Teine Energy Ltd. with two, and one more for Whitecap.
0060 Arizona Lithium Lease building

0060 Arizona Lithium Lease building

0059 Southeast College Heavy Equipment Operator

0059 Southeast College Heavy Equipment Operator

0058 Royal Helium Steveville opens anonymous rocket

0058 Royal Helium Steveville opens anonymous rocket

9002 Pipeline Online 30 sec EBEX

9002 Pipeline Online 30 sec EBEX

0055 Smart Power Be Smart with your Power office

0055 Smart Power Be Smart with your Power office

0015 Latus Viro

0015 Latus Viro

0052 Predator Inspections

0052 Predator Inspections

0051 JML Hiring Pumpjack assembly

0051 JML Hiring Pumpjack assembly

0049 Scotsburn Dental soft guitar

0049 Scotsburn Dental soft guitar

0046 City of Estevan This is Estevan

0046 City of Estevan This is Estevan

0043 ALX ten sizes

0043 ALX ten sizes

0039 Summit ESP Saskatchewan lower third

0039 Summit ESP Saskatchewan lower third

0041 DEEP Since 2018 now we are going to build

0041 DEEP Since 2018 now we are going to build

0032 IWS Summer hiring rock trailer music

0022 Grimes winter hiring

0021 OSY Rentals S8 Promo

0018 IWS Hiring Royal Summer

0013 Panther Drilling PO ad 03 top drive rigs

0011

0006 JK Junior

9001

0002