Brian Zinchuk is editor and owner of Pipeline Online
It's another windless day in Alberta Sunday morning, as the Alberta electrical grid was getting just four per cent of its wind capacity, according to the Alberta Electric System Operator (AESO).
0040 Southeast College safety tickets

0040 Southeast College safety tickets

0036 Prairie Lithium - Chad Glemser 30 Sec

0033 Buffalo Potash Jared Small Footprint

0032 IWS Summer hiring rock trailer music

0029 Latus Viro updated Latus phone

0025 Kendalls

0026 Buffalo Potash Quinton Salt

0023 LC Trucking tractor picker hiring mix

0022 Grimes winter hiring

0021 OSY Rentals S8 Promo

0019 Jerry Mainil Ltd hiring dugout

0018 IWS Hiring Royal Summer

0014 Buffalo Potash What if PO

0013 Panther Drilling PO ad 03 top drive rigs

0011

0006 JK Junior

0004 Royal Helium PO Ad 02

9001

0002
The AESO's minute-by-minute updated website showed wind was putting out 106 megawatts of the 2,589 megawatts attached to the grid.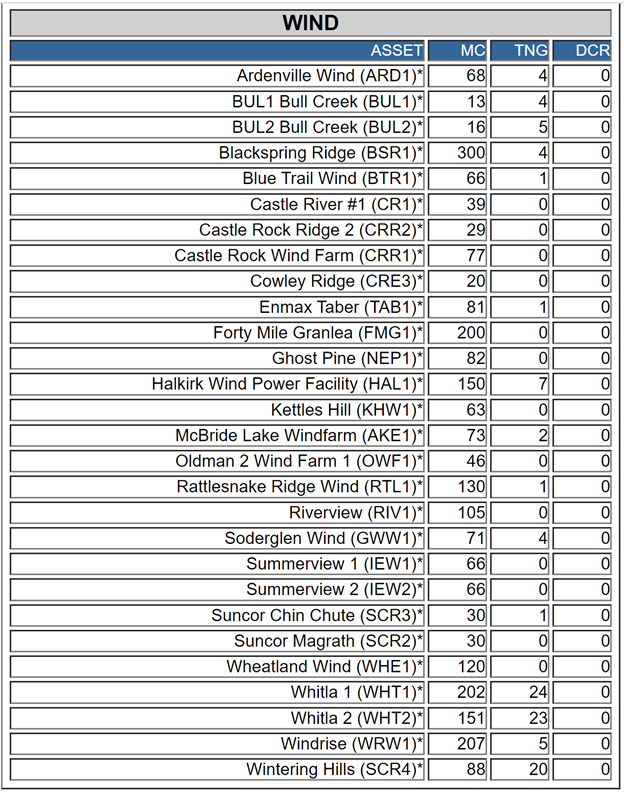 Twelve of 28 wind farms were contributing zero to the grid Sunday morning. Forty Mile Granlea and Wheatland Wind are still under construction, so that accounts for those two facilities. Alberta Electric System Operator.
As usual, despite having 70 megawatts of battery storage, with 58 megawatts online for dispatchable power, the four battery facilities in Alberta were again contributing zero to the grid, despite the low wind output. In 9.5 months of random observations, Pipeline Online has not once seen the AESO website report any power contributed to the grid from these four battery facilities.

0040 Southeast College safety tickets

0040 Southeast College safety tickets

0036 Prairie Lithium - Chad Glemser 30 Sec

0033 Buffalo Potash Jared Small Footprint

0032 IWS Summer hiring rock trailer music

0029 Latus Viro updated Latus phone

0025 Kendalls

0026 Buffalo Potash Quinton Salt

0023 LC Trucking tractor picker hiring mix

0022 Grimes winter hiring

0021 OSY Rentals S8 Promo

0019 Jerry Mainil Ltd hiring dugout

0018 IWS Hiring Royal Summer

0014 Buffalo Potash What if PO

0013 Panther Drilling PO ad 03 top drive rigs

0011

0006 JK Junior

0004 Royal Helium PO Ad 02

9001

0002