Brian Zinchuk is editor and owner of Pipeline Online
ESTEVAN – SaskPower announced last summer that it would be substantially increasing its transmission line interconnect with the American Southwest Power Pool (SPP). This would allow the Crown power utility to increase its ability to buy and sell power from the current 150 megawatts to 650 megawatts, or a bit more than the capacity of Boundary Dam Power Station.
Now it's time to start doing consultations on the project. SaskPower will be holding an open house in Estevan at the Days Inn on March 23, from 5 to 7:30 p.m., and again on March 24, from 8 to 11 a.m.
SaskPower's web page provides these reasons for the open house:
To increase Saskatchewan's power capacity, we're building:

2 new power lines to the United States (US)
1 new switching station near the City of Estevan
1 rerouted power line between the new switching station and Boundary Dam Power Station

We signed a 20-year agreement with the Southwest Power Pool (SPP) in 2022. The agreement will allow us to send and receive power from our neighbours in the US by 650 megawatts (MW). The agreement starts in 2027.

Canada and the US will need new power facilities to support this project. SPP selected Basin Electric Power Cooperative (BEPC) to complete the work on the US side of the border. We'll co-ordinate with BEPC to create a connection point at the Canada/US border. We'll oversee the work on the Canadian side of the border.
SaskPower said it needs to secure the land to build a new switching station and power lines. The initial consultation is ongoing, with a follow-up on the power lines expected in late 2023. Regulatory requirements are ongoing. Construction completion and power-up is anticipated by 2027.
0045 WBPC 2023 Bright Colors P

0045 WBPC 2023 Bright Colors P

0044 PTRC CCUS Aquistore

0044 PTRC CCUS Aquistore

0043 ALX ten sizes

0043 ALX ten sizes

0042 Sask Oilfield Services

0042 Sask Oilfield Services

0039 Summit ESP Saskatchewan lower third

0039 Summit ESP Saskatchewan lower third

0041 DEEP Since 2018 now we are going to build

0041 DEEP Since 2018 now we are going to build

0040 Southeast College safety tickets

0040 Southeast College safety tickets

0033 Buffalo Potash Jared Small Footprint

0032 IWS Summer hiring rock trailer music

0029 Latus Viro updated Latus phone

0025 Kendalls

0026 Buffalo Potash Quinton Salt

0023 LC Trucking tractor picker hiring mix

0022 Grimes winter hiring

0021 OSY Rentals S8 Promo

0019 Jerry Mainil Ltd hiring dugout

0018 IWS Hiring Royal Summer

0014 Buffalo Potash What if PO

0013 Panther Drilling PO ad 03 top drive rigs

0011

0006 JK Junior

0004 Royal Helium PO Ad 02

9001

0002
As the project crosses an international boundary, the Canadian Energy Regulator is the governing body.
SaskPower said, "Increasing our connections to neighbours benefit everyone in the province Saskatchewan. Some of these benefits include:
making our grid more flexible, reliable and resilient.
helping to bring more power to homes and businesses when and where it's needed
increasing our ability to add more renewable power to the power grid
gaining financial benefits through selling power to the rest of North America and avoiding carbon taxes"
The Southwest Power pool runs from the 49th parallel all the way down to northern Texas. Depending on the day, power generation in the SPP varies from 15 per cent coal to around 44 per cent. The largest variable is wind production, whose fraction of power generation changes tremendously. At midnight last night, wind made up 70.9 per cent, and coal 15.9 per cent. But just after midnight on Jan. 20, 2023, that mix was 45.3 per cent coal, with wind producing just 18.6 per cent.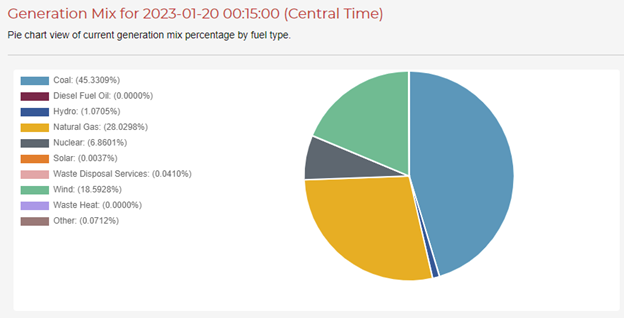 Pipeline Online provides the in-depth coverage on energy issues in this province that no other media comes close to. However, with recent threats from Facebook to block news links, it's important to follow Pipeline Online in other manners. The easiest is to check each morning at PipelineOnline.ca, with the top story posted at 7 a.m. Monday to Friday, and additional coverage throughout the day and weekend. But you can also follow on LinkedIn and Twitter. You can follow editor Brian Zinchuk online at LinkedIn as well (you'll see more stories that way). Finally, you can subscribe to a weekly newsletter. 
0045 WBPC 2023 Bright Colors P

0045 WBPC 2023 Bright Colors P

0044 PTRC CCUS Aquistore

0044 PTRC CCUS Aquistore

0043 ALX ten sizes

0043 ALX ten sizes

0042 Sask Oilfield Services

0042 Sask Oilfield Services

0039 Summit ESP Saskatchewan lower third

0039 Summit ESP Saskatchewan lower third

0041 DEEP Since 2018 now we are going to build

0041 DEEP Since 2018 now we are going to build

0040 Southeast College safety tickets

0040 Southeast College safety tickets

0033 Buffalo Potash Jared Small Footprint

0032 IWS Summer hiring rock trailer music

0029 Latus Viro updated Latus phone

0025 Kendalls

0026 Buffalo Potash Quinton Salt

0023 LC Trucking tractor picker hiring mix

0022 Grimes winter hiring

0021 OSY Rentals S8 Promo

0019 Jerry Mainil Ltd hiring dugout

0018 IWS Hiring Royal Summer

0014 Buffalo Potash What if PO

0013 Panther Drilling PO ad 03 top drive rigs

0011

0006 JK Junior

0004 Royal Helium PO Ad 02

9001

0002