Brian Zinchuk is editor and owner of Pipeline Online
BlincSoftware's Canadian Petroleum Registry, found at https://registry.schematic.pro/, recently posted the Top 10 SAGD/Bitumen Wells for Saskatchewan in December, 2022.
The top 10 wells of that type were swept by Cenovus Energy, with their Rush and Spruce Lake SAGD properties.
And indeed, according to RiggerTalk.com on Feb. 16, Cenovus had Precision Drilling Rig 198 drilling at Rush Lake, punching another hole.
The top producer, at Rush Lake, was 104/04-27-053-21W3/00. In December it made 272.34 cubic metres (1,713 barrels) of oil per day, 603 cubic metres (3,793 barrels) of water, and 2.83 cubic metres (17 boe) of gas per day.
The Canadian Petroleum Registry uses a variety of public data sources. BlincSoftware notes, "This list does not include confidential well types. Every attempt is made to ensure accuracy of this data, but we cannot 100 per cent verify all data points. Use at your own risk."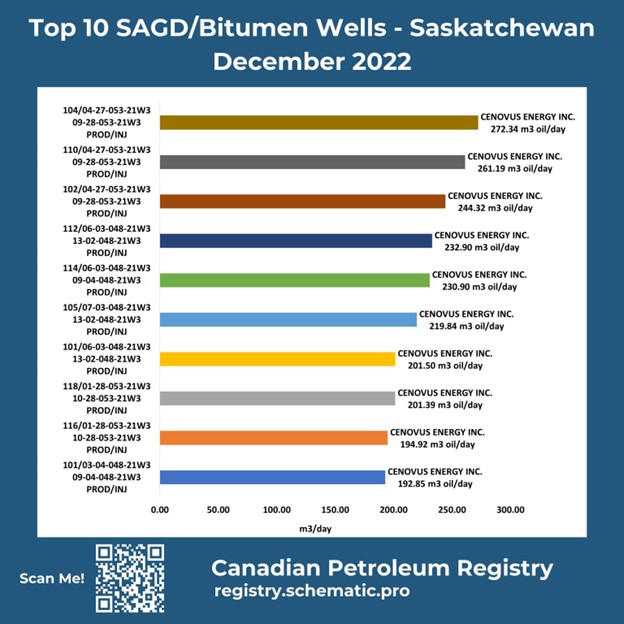 9002 Pipeline Online 30 sec EBEX

9002 Pipeline Online 30 sec EBEX

0056 OSY Rentals Hockey Draft 2023

0056 OSY Rentals Hockey Draft 2023

0055 Smart Power Be Smart with your Power office

0055 Smart Power Be Smart with your Power office

0015 Latus Viro

0015 Latus Viro

0054 SIMSA Energy Forum

0054 SIMSA Energy Forum

0053 Kingston Midstream Westspur Alameda

0053 Kingston Midstream Westspur Alameda

0052 Predator Inspections

0052 Predator Inspections

0051 JML Hiring Pumpjack assembly

0051 JML Hiring Pumpjack assembly

0049 Scotsburn Dental soft guitar

0049 Scotsburn Dental soft guitar

0046 City of Estevan This is Estevan

0046 City of Estevan This is Estevan

0043 ALX ten sizes

0043 ALX ten sizes

0039 Summit ESP Saskatchewan lower third

0039 Summit ESP Saskatchewan lower third

0041 DEEP Since 2018 now we are going to build

0041 DEEP Since 2018 now we are going to build

0032 IWS Summer hiring rock trailer music

0022 Grimes winter hiring

0021 OSY Rentals S8 Promo

0018 IWS Hiring Royal Summer

0013 Panther Drilling PO ad 03 top drive rigs

0011

0006 JK Junior

0004 Royal Helium PO Ad 02

9001

0002
Editor's note: Pipeline Online is not a recipient of federal journalism subsidies, but pays its way through advertising, commercial video and photography. It provides the in-depth coverage and analysis in Saskatchewan's energy sector that no one other media comes even close to. Our lead story is posted at 7 a.m., Monday to Friday. Follow on LinkedIn, Facebook or Twitter. (Hint: LinkedIn is best)