Brian Zinchuk is editor and owner of Pipeline Online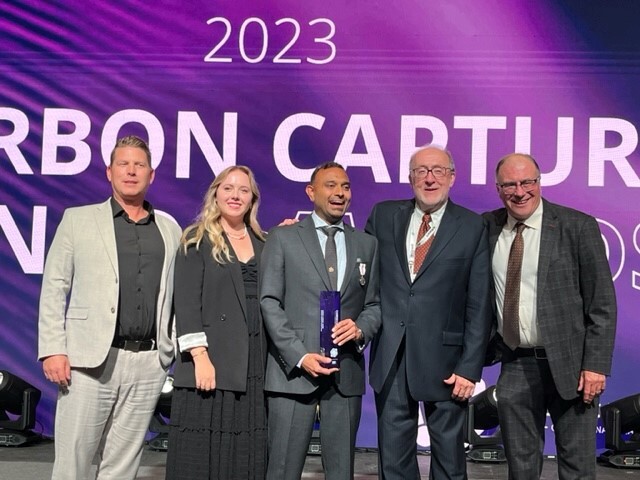 The Regina-based Petroleum Technology Research Centre was awarded the Carbon Storage Award at the Carbon Capture Canada Conference in Edmonton on September 13th at a gala awards ceremony. The award was in recognition for its work on the Aquistore deep saline storage project.
The Aquistore project is meant to provide multiple methods of scientific analysis of deep geologic storage of carbon dioxide, which is considered a greenhouse gas. The idea is to capture carbon dioxide, in this case, from the combustion of coal for power generation, and instead of allowing it to be released to the atmosphere, you pump it deep underground, where it will hopefully stay there, forever. And that's what Aquistore is meant to prove.
Aquistore involves two deep wells, the deepest in Saskatchewan when they were drilled a decade ago. One is used to inject carbon dioxide into the Deadwood formation, a deep saline aquifer just above the Precambrian basement. The second well, drilled nearby, is an observation well, used to determine the spread of of the carbon dioxide plume underground. Both wells are heavily instrumented, as is the entire site and surrounding area. This includes sensors to detect if the ground has risen, numerous water monitoring wells, and a permanent seismic array. Aquistore receives a portion of the carbon dioxide captured from SaskPower's Boundary Dam Power Station, which is located two miles to the east, and is the source of the carbon dioxide.
SaskPower owns the project, and the PTRC provides the scientific heavy lifting.
In a press release, the organization said, "PTRC is thankful for the acknowledgement of the importance of this pioneering project, with thanks to all our partners in demonstrating the safety and security of long-term geological storage of CO2 from SaskPower's Boundary Dam Capture Facility. Thanks to Government of Saskatchewan and Innovation Saskatchewan's continuing support of our world-leading CCS initiatives, and especially the commitment of our many R&D partners, universities, and SaskPower employees who make Aquistore the project, globally, sought after for its data, expertise and knowledge."
"I am so proud of this award," noted Ranjith Narayanasamy, the CEO and president of the PTRC. "Aquistore has been a bell-weather project for years, demonstrating that CO2 can be safely and efficiently stored in a deep saline aquifer, thus reducing emissions from a coal-fired power station, but also demonstrating that safe and effective storage can assist many different industries, from steel, to cement, to power generation, and refining.  I am so proud of my staff and our ongoing sponsors like SaskPower, Innovation Saskatchewan, the Government of Saskatchewan, and countless industry and academic partners."
0015 Latus Viro

0015 Latus Viro

0054 SIMSA Energy Forum

0054 SIMSA Energy Forum

0053 Kingston Midstream Westspur Alameda

0053 Kingston Midstream Westspur Alameda

0052 Predator Inspections

0052 Predator Inspections

0051 JML Hiring Pumpjack assembly

0051 JML Hiring Pumpjack assembly

0049 Scotsburn Dental soft guitar

0049 Scotsburn Dental soft guitar

0046 City of Estevan This is Estevan

0046 City of Estevan This is Estevan

0043 ALX ten sizes

0043 ALX ten sizes

0039 Summit ESP Saskatchewan lower third

0039 Summit ESP Saskatchewan lower third

0041 DEEP Since 2018 now we are going to build

0041 DEEP Since 2018 now we are going to build

0032 IWS Summer hiring rock trailer music

0022 Grimes winter hiring

0021 OSY Rentals S8 Promo

0018 IWS Hiring Royal Summer

0013 Panther Drilling PO ad 03 top drive rigs

0011

0006 JK Junior

0004 Royal Helium PO Ad 02

9001

0002