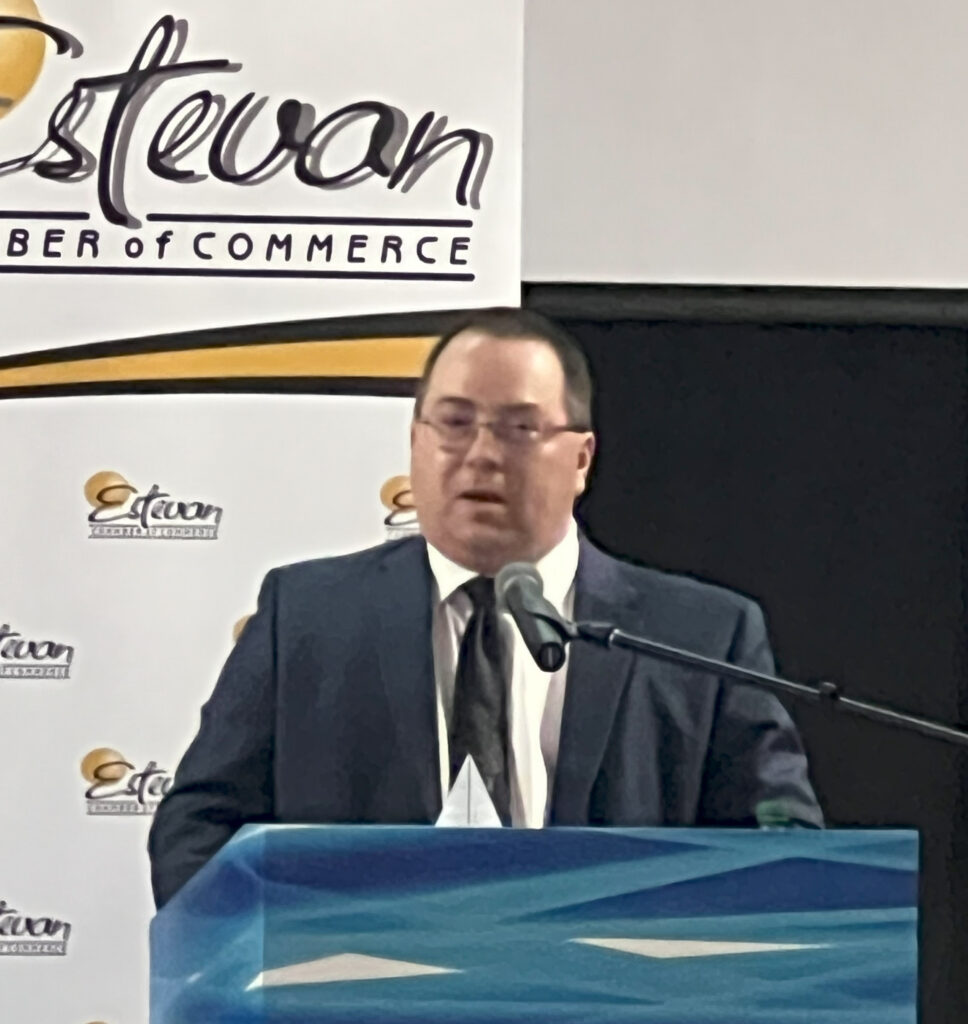 ESTEVAN – Pipeline Online was honoured with the Estevan Business Excellence award for New Business Venture.
The category was for businesses who have been in operation for under three years. Pipeline Online was one of three nominees, the others being digital marketing agency Impact Creative Digital Solutions and Genco Asphalt Inc.
The biennial event, put on by the Estevan Chamber of Commerce, took place at Southeast College's Estevan campus on Friday, Oct. 20.
The citation read:
"Pipeline Online is an online news website, focusing on Saskatchewan's energy sector. While the principal focus is oil and gas, the emergence of the "energy transition" being forced upon Saskatchewan has grown to become a major focus. Financially, the focus was to become profitable and support the Zinchuk family in the first year, and it has. Pipeline Online has been built out of the ashes of a lifelong career built in the newspaper industry, and the company is now acknowledged within the provincial press, and the halls of the Legislature, as the subject matter expert on energy."
Editor and owner Brian Zinchuk thanked his support team which included bookkeeper Brandy Cullen of SE Bookkeeping, Carol Sylvestre of Carol Sylvestre Professional Corp, columnists Brian Crossman, Jim Warren, Steve Halabura, Tammy Nemeth and Ken From.
He also thanked his parents, Phyllis Stroud and Lorne Zinchuk, for helping financially to get the venture off the ground. Zinchuk thanked his children, Katrina and Spencer Zinchuk, for all their help lugging camera gear around and missing school to attend things like oil shows. And finally, he thanked his wife, Michelle Zinchuk, for her support and putting up with all the late nights of his working.
"Estevan is the Energy City, and Pipeline Online is Saskatchewan's Energy News," he said.
Zinchuk would also like to thank Jason Coutu for building and supporting the website, Dickson Delorme ("Quick Dick McDick"), legal support from John Billesberger, Kurt Price and Tracey Klotz from the Patchwork Podcast, Kate Winquist of Your West Central Voice, BlincSoftware, Brad Wall, David Yager, Murray Lyons, Small Dead Animals, as well as Chris Aparicio and John Gormley from CJME/CKOM Rawlco Radio.
And finally, Zinchuk would like to thank all the advertisers who have financially supported Pipeline Online, and the readers who follow it.
Breanne Van De Woestyne, owner of Impact Creative Solutions, won Young Entrepreneur of the Year. Steam-Est Industries won Community Involvement. Outstanding Employee went to Rebecca Ferguson of Mainprize Regional Park. South East Eye Care won Best Service.
JS Truckmart won Best Overall Business, Diversity in the Workplace, and Growth and Expansion awards.
The Nick and Verna Morsky Business Hall of Fame Award went to Bert Baxter Trucking, which has been in business for over 60 years. Most of that time the company has been owned and operated by Graham and Nancy Shirley, and then their sons Darryl, Todd and Vaughn Shirley. All five were present to receive the award.
0060 Arizona Lithium Lease building

0060 Arizona Lithium Lease building

0059 Southeast College Heavy Equipment Operator

0059 Southeast College Heavy Equipment Operator

0058 Royal Helium Steveville opens anonymous rocket

0058 Royal Helium Steveville opens anonymous rocket

9002 Pipeline Online 30 sec EBEX

9002 Pipeline Online 30 sec EBEX

0055 Smart Power Be Smart with your Power office

0055 Smart Power Be Smart with your Power office

0015 Latus Viro

0015 Latus Viro

0052 Predator Inspections

0052 Predator Inspections

0051 JML Hiring Pumpjack assembly

0051 JML Hiring Pumpjack assembly

0049 Scotsburn Dental soft guitar

0049 Scotsburn Dental soft guitar

0046 City of Estevan This is Estevan

0046 City of Estevan This is Estevan

0043 ALX ten sizes

0043 ALX ten sizes

0039 Summit ESP Saskatchewan lower third

0039 Summit ESP Saskatchewan lower third

0041 DEEP Since 2018 now we are going to build

0041 DEEP Since 2018 now we are going to build

0032 IWS Summer hiring rock trailer music

0022 Grimes winter hiring

0021 OSY Rentals S8 Promo

0018 IWS Hiring Royal Summer

0013 Panther Drilling PO ad 03 top drive rigs

0011

0006 JK Junior

9001

0002