Brian Zinchuk is editor and owner of Pipeline Online
OXBOW – An Oxbow couple saw a need for a made-in-Saskatchewan oilfield directory, back in the days when things were hopping. In 2019, Connie and Art Hannah launched the Saskatchewan Oilfield Services app.
Connie works in admin at a local machine shop, while Art retired last July from 25 years as a fuel delivery hauler. Prior to that he had a varied oilfield career, from roughnecking to battery operator.
During those busy days, Connie said they would often hear people say, "I didn't know you did that," when it came to some businesses. This was a common refrain from hot shot drivers especially.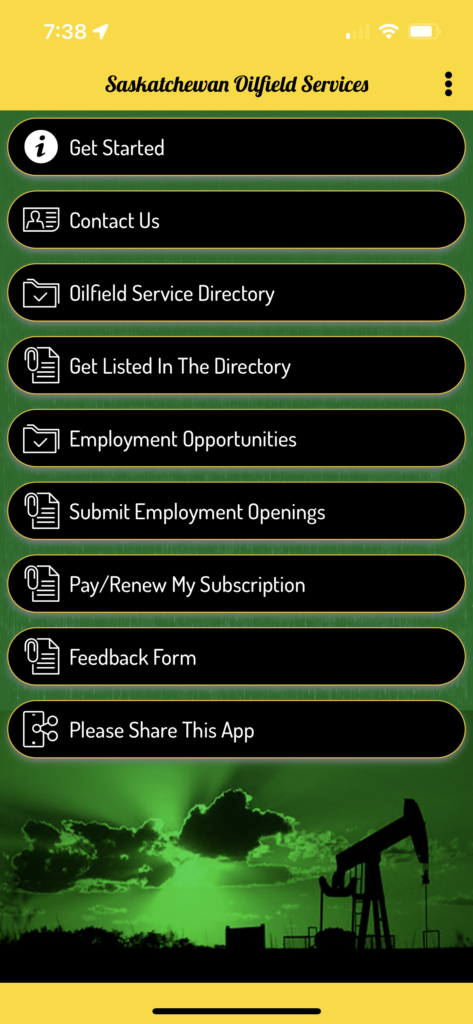 "I wonder how many other people out there are doing stuff we don't know they're doing?" Connie said on March 21 by phone.
She first played around with the idea of a website, but decided on an app instead. "That didn't seem as handy as an app, and that seemed to be the way to go," she said.
So Connie put herself to the task of developing the app, both for iPhone and Android operating systems. "It's in both the App Store and Google Play."
Look for "Saskatchewan Oilfield Services" in the search bar.
It first launched in March 2019. But in early 2020, the oilfield went to hell in a handbasket with the onset of the COVID-19 pandemic. "When everything kind of bit the dust there, we took it down, because it was costing money and nobody was doing anything. So then we relaunched it in April of 2022, and now we seem to be generating some interest, I think."
The app is similar to a Yellow Pages for the Saskatchewan oilfield. There's no cost to download it, or to look up services on it. The Hannahs sell businesses subscriptions to it, which is basically buying a listing. Listings are divided into categories, like just like a phonebook.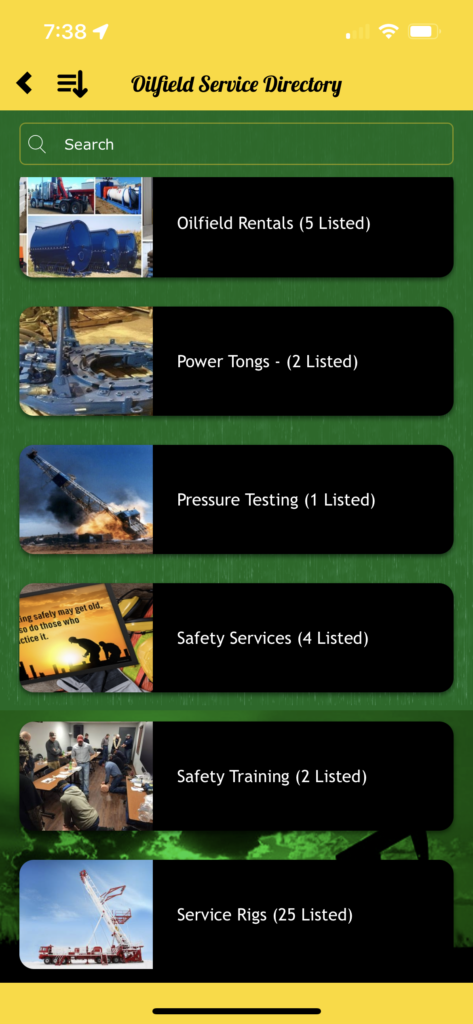 They're pretty easy to get along with, and okay with making changes and updates to listings as needed. And they'll even include listings in the employment openings portion of the app. So if you're looking for workers, you can post job listings there.
Their focus is very much Saskatchewan-based, focusing on Saskatchewan companies. "We advertise for Saskatchewan companies. They're either based in Saskatchewan or employee Saskatchewan people," Connie said.
They'll also help out with promotion on social media like LinkedIn.
More information can be found at https://saskoilfieldservices.com/
0051 JML Hiring Pumpjack assembly

0051 JML Hiring Pumpjack assembly

0049 Scotsburn Dental soft guitar

0049 Scotsburn Dental soft guitar

0050 Pride Upkeep lawn

0050 Pride Upkeep lawn

0048 Hutts Trucking Safety

0048 Hutts Trucking Safety

0047 Estevan Oilfield Technical Society 2023

0047 Estevan Oilfield Technical Society 2023

0046 City of Estevan This is Estevan

0046 City of Estevan This is Estevan

0044 PTRC CCUS Aquistore

0044 PTRC CCUS Aquistore

0043 ALX ten sizes

0043 ALX ten sizes

0039 Summit ESP Saskatchewan lower third

0039 Summit ESP Saskatchewan lower third

0041 DEEP Since 2018 now we are going to build

0041 DEEP Since 2018 now we are going to build

0040 Southeast College safety tickets

0040 Southeast College safety tickets

0032 IWS Summer hiring rock trailer music

0029 Latus Viro updated Latus phone

0025 Kendalls

0023 LC Trucking tractor picker hiring mix

0022 Grimes winter hiring

0021 OSY Rentals S8 Promo

0019 Jerry Mainil Ltd hiring dugout

0018 IWS Hiring Royal Summer

0013 Panther Drilling PO ad 03 top drive rigs

0011

0006 JK Junior

0004 Royal Helium PO Ad 02

9001

0002