Brian Zinchuk is editor and owner of Pipeline Online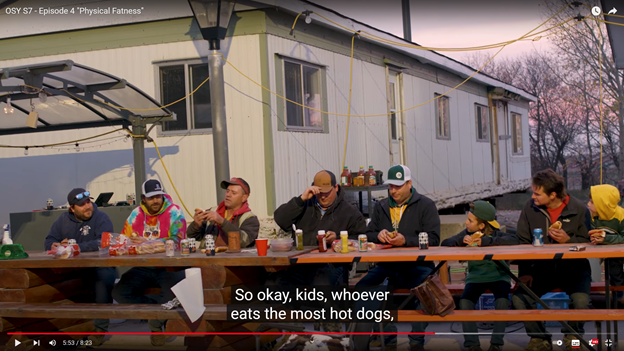 MAJOR – You do whatever you can to stand out, when it comes to marketing, but OSY Rentals of Major, has, for several years, taken one of the most unique approaches.
On Dec. 10, the company, located west of Kerrobert, wrapped up it's seventh season of its web video series. It's called Oh Sh!t Yeah, which happens to also be what OSY stand for.
You can see the season 7 finale here:
In the episode, called "Physical Fatness," the crew at OSY takes part in a hot dog eating contest. What does that do with renting oilfield equipment? Who knows? But it's funny.
The previous episode has them chasing chickens, like Rocky, training for a fight.
The first episode was posted in the spring of 2017, and hilarity has ensued ever since.
Over the years, the offbeat series has taken a little bit of inspiration from American Chopper, and perhaps some from Letterkenny and Corner Gas, to boot.
Asked why they are still doing it, and if it's working for them, Dallas Cairns, manager of OSY said, "Actually, it's so hard to tell. It's like It's like buying a billboard. You have no idea what you're getting back. But this is what we do. We'll run into customers or random people, and they'll say, 'Hey, when's the next day of your show coming out?' Then we'll be like, 'Oh, I didn't even know you watched it.'
"And that's the truth. That's how it really is. It's just like, well fuck it, if those one guys are watching it, and the idea is, if you can send them an email, just like our hockey draft, if you can send a potential client or client an email that is not about work, that just puts you top of mind. That's all we're trying to do. We just want to get top of mind so if they ever have a job, it's like fuck, oh, yeah, OSY. That's it.
Here's the other episodes of Season 7.
Season 7, Episode 3 Ready, Aim, Fire

Season 7, Episode 2 New Direction

Season 7 Episode 1 Stylin' & Profilin

And here's how we at Pipeline Online pay the bills:
0051 JML Hiring Pumpjack assembly

0051 JML Hiring Pumpjack assembly

0049 Scotsburn Dental soft guitar

0049 Scotsburn Dental soft guitar

0050 Pride Upkeep lawn

0050 Pride Upkeep lawn

0048 Hutts Trucking Safety

0048 Hutts Trucking Safety

0047 Estevan Oilfield Technical Society 2023

0047 Estevan Oilfield Technical Society 2023

0046 City of Estevan This is Estevan

0046 City of Estevan This is Estevan

0044 PTRC CCUS Aquistore

0044 PTRC CCUS Aquistore

0043 ALX ten sizes

0043 ALX ten sizes

0039 Summit ESP Saskatchewan lower third

0039 Summit ESP Saskatchewan lower third

0041 DEEP Since 2018 now we are going to build

0041 DEEP Since 2018 now we are going to build

0040 Southeast College safety tickets

0040 Southeast College safety tickets

0032 IWS Summer hiring rock trailer music

0029 Latus Viro updated Latus phone

0025 Kendalls

0023 LC Trucking tractor picker hiring mix

0022 Grimes winter hiring

0021 OSY Rentals S8 Promo

0019 Jerry Mainil Ltd hiring dugout

0018 IWS Hiring Royal Summer

0013 Panther Drilling PO ad 03 top drive rigs

0011

0006 JK Junior

0004 Royal Helium PO Ad 02

9001

0002