Brian Zinchuk is editor and owner of Pipeline Online
The family of Ronald J. Wanner announced that he passed away at St. Joseph's Hospital on Wednesday, May 31, 2023 at the age of 81 years. Funeral arrangements are entrusted to Hall Funeral Service.
A Prayer Service will be held at Hall Funeral Services on Monday, June 5, 2023 at 5:30 p.m. with Connie Wheeler officiating.
Funeral Mass will be held on Tuesday, June 6, 2023 at 1:30 p.m. at St. John the Baptist R.C. Church, Estevan, SK with Rev. Amado Canaveral presiding.  A time of lunch will be held immediately following the service.  Interment will take place at Estevan City Cemetery.
On June 7, 2017, Estevan's Ronald J. Wanner was inducted as a Southeast Saskatchewan Legend during the Saskatchewan Oil and Gas Show. Minister of Energy and Resources Dustin Duncan read the following biography during the induction ceremony:
Ronald J. Wanner is the patriarch behind Viking Oilfield Surplus Ltd. and its several affiliated companies. Over the years, the group grew to be a nearly completely vertically integrated oilfield operation that included an oil producing company, T. Bird Oil, Venture Well Servicing, with its own service rigs and drilling rig, Viking Trucking, and Viking Oilfield Surplus. There's even a holding company for the real estate and some farm land, where he would occasionally drive tractor. His customer base included 600 companies spanning 3 Canadian provinces and 10 oil producing States in the USA.
Ron Wanner grew up on a farm, eight miles south of Macoun and started working at the OK Economy hauling groceries in 1961, right after graduating high school. The following February, he went to school in Regina for a bookkeeping course. That was the start of one of his first commercial ventures. Since he came home every weekend to work at the OK Economy, he would haul schoolmates back with him in his car for $5 each. That's how he put himself through school.
From September to December, 1962, he was working at a local Auto Electric and his mother and father phoned to tell him British American Oil was looking for an accountant in Estevan. Ron applied and was chosen out of 100 applicants. Over the next ten years, he worked in many departments, including oil accounting, accounts payable, and purchasing.
In 1966, a farm friend and schoolmate, Ron Stregger, and Ron bought a new backhoe together. Stregger would run it during the week and Wanner would run it on weekends and statutory holidays. Three years later when the partnership split Wanner bought an old backhoe from Peterson Construction, and hired a neighbour, Calvin Johnson, and Vern Erickson. He now had two backhoes running, a gravel truck, and a little loader. The work included farm and town work, along with a bit of oilfield trenching.
Eventually the business grew to the point where Gulf (who had bought out British American) told him to choose – work for them, or work on his own.
On May 1, 1972, he struck out fully on his own, operating under Ron's Trenching and Hauling. Ron's did water and sewer work in the city, as well as subdivision projects. But at the start of a key contract, a few key people went out on their own, which Wanner described as a letdown. He quit Ron's Trenching and Hauling, sold off the equipment, and moved the remaining staff to Viking Surplus.
In 1972, he started Viking Surplus Oilfield Equipment. Gulf, who had ten surplus treaters for sale but didn't get one bid. To get these surplus treaters off their books, they accepted the token amount of $100 each from Viking.
When moving these 10 treaters into the Viking Yard near the east-side overpass a stroke of good fortune occurred. As they were unloading the treaters, a fella dressed in cowboy boots and a cowboy hat drove up in a half ton with Montana plates on it. Due to a strike in the United States pressure vessel manufacturing industry, there was a pronounced shortage south of the border.
The man made him an offer of $3,000 each for them and walked to his truck, and cut a check for $3,000 and $500 to ship it to Cutbank, Montana. On the trip down Ron stopped at National Tank in Williston, N.D. and asked if they were looking for treaters. The response was "We're looking for treaters in any condition." Wanner responded that he had no money. The man gave him a check, telling him, "You're my man. You will buy them."
After that they hauled approximately 100 treaters to Gillette, Montana. They cleaned out Estevan, Virden, Kindersley and Swift Current of all the old vessels. The local boiler inspector was glad to be rid of them.
The treater shortage would be followed by a sucker rod shortage in the early 1980s, and then a "huge engine shortage" in the late 1980s. Along the way, Viking Surplus got into machining, rebuilding pump unit parts, drill pipe, tubing, casing, and pump unit parts.
Viking also had three or four picker trucks, and used to haul their own equipment until 1997, when Wanner's two sons, Kelly and Cory bought it out. Other family members have also been involved in various Wanner businesses. Daughter Debbie Henders and wife Dorothy were highly active in an RV and boat dealership known as Sun City Sales that operated in the 1990s. Wanner Holdings is a private real estate company that holds the various properties for the other business entities, plus 440 acres of farmland.
One of Viking's initial big customers was Midale Petroleums. Viking sold them equipment and also went into partnership with them on drilling of new wells. After a time, T. Bird Oil was started in 1982. Soon T. Bird would be drilling its own wells, at first as an offshoot of Viking, sharing staff, and later it became a standalone company in 1999. T.Bird Oil later sold to Crescent Point Energy Corp.
Since T. Bird was a small company, it was hard to get a service rig in the early years. The wait could be as long as six weeks to two months. Midale Petroleums needed access to another service rig, so in the late 80's, with some employees, Wanner bought a service rig to complement Midale's existing rig. The industry went from very busy in early 1986 to a sudden crash when oil then plummeted to $10 a barrel in a very short time. The rig sat on location for a month with nowhere to go. The partners bailed, and Viking ended up making the payments on the rig. The company persevered as Venture Well Servicing and eventually grew to seven rigs, including a purchase of Plains Well Servicing of Oxbow in the late 1990s. In 2010 Venture Well Servicing's five rigs were sold to Certified Energy Services.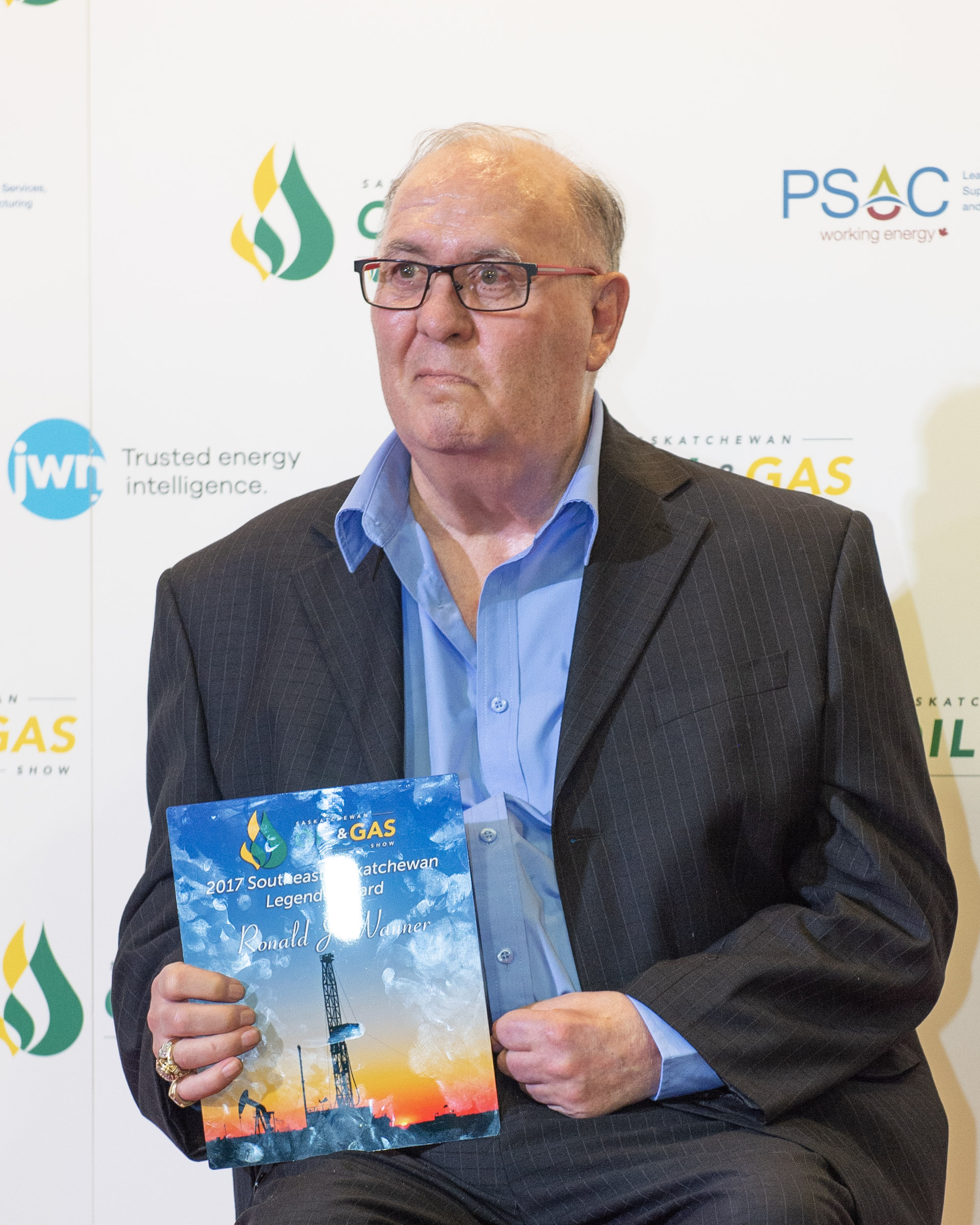 Ron always said his ability was limited and a disadvantage that was made up for with hard work. His attitude that everyone deserves the same price made it his mission to help serve every small or large company who needed his help or service. He never tired in hiring staff he may not have been able to afford or invest in projects to help an endless number of people in the industry for over 50 years.
Ron worked tirelessly serving his family and peers in the industry until his near fatal stroke in 2014. Today he advises his family and works at getting physically better to find some comfort for his hard work.
0015 Latus Viro

0015 Latus Viro

0054 SIMSA Energy Forum

0054 SIMSA Energy Forum

0053 Kingston Midstream Westspur Alameda

0053 Kingston Midstream Westspur Alameda

0052 Predator Inspections

0052 Predator Inspections

0051 JML Hiring Pumpjack assembly

0051 JML Hiring Pumpjack assembly

0049 Scotsburn Dental soft guitar

0049 Scotsburn Dental soft guitar

0046 City of Estevan This is Estevan

0046 City of Estevan This is Estevan

0043 ALX ten sizes

0043 ALX ten sizes

0039 Summit ESP Saskatchewan lower third

0039 Summit ESP Saskatchewan lower third

0041 DEEP Since 2018 now we are going to build

0041 DEEP Since 2018 now we are going to build

0032 IWS Summer hiring rock trailer music

0022 Grimes winter hiring

0021 OSY Rentals S8 Promo

0018 IWS Hiring Royal Summer

0013 Panther Drilling PO ad 03 top drive rigs

0011

0006 JK Junior

0004 Royal Helium PO Ad 02

9001

0002