Brian Zinchuk is editor and owner of Pipeline Online
For the second day in a row, SaskPower saw negative power production from wind power generation. And for four days in a row, wind power was next to nothing.
According the SaskPower's Where Your Power Comes From webpage, SaskPower saw -1 megawatt of wind power production, the same as it has the day before, on Jan. 16. And it follows and average 23 megawatts produced on Jan. 15. Saskatchewan has 617 megawatts of grid-scale wind power installed.
How can it be negative? According to SaskPower on Jan. 18, "The turbines were iced up and unable to produce. The -1 megawatt was load to service the facilities."
Southern Saskatchewan has spent several days socked in with icy fog, resulting in icing on the turbine blades. The province's wind farms are all located in the south.
On Jan. 18, wind power put out an average of 2 megawatts throughout the day, so it was not a negative value, according to SaskPower.
Thus, out of four days in a row, the installed base of 617 megawatts of wind turbines produced 23, -1, -1, and 2 megawatts as daily averages of wind power generation. That's 3.7 per cent, negative, negative and 0.3 per cent of nameplate capacity.
By the fifth day, at 11:30 on Thursday, Jan. 19, wind power production had reached 5 megawatts.
In some circumstances, wind turbines are de-iced by helicopter. Asked if that's what happens in Saskatchewan, SaskPower spokesperson Joel Cherry said by email on Jan. 19, "On the de-icing, the SaskPower-owned wind facilities are older and much smaller than the ones operated by independent power producers (IPP), so we just wait for sunny conditions to remove the frost naturally. I believe the larger IPP facilities do have de-icing capabilities, but it would be up to them to pay for it."
0041 DEEP Since 2018 now we are going to build

0041 DEEP Since 2018 now we are going to build

0040 Southeast College safety tickets

0040 Southeast College safety tickets

0036 Prairie Lithium - Chad Glemser 30 Sec

0033 Buffalo Potash Jared Small Footprint

0032 IWS Summer hiring rock trailer music

0029 Latus Viro updated Latus phone

0025 Kendalls

0026 Buffalo Potash Quinton Salt

0023 LC Trucking tractor picker hiring mix

0022 Grimes winter hiring

0021 OSY Rentals S8 Promo

0019 Jerry Mainil Ltd hiring dugout

0018 IWS Hiring Royal Summer

0014 Buffalo Potash What if PO

0013 Panther Drilling PO ad 03 top drive rigs

0011

0006 JK Junior

0004 Royal Helium PO Ad 02

9001

0002
Natural gas and coal kept lights on as solar was negligible, too
As for other power production on Tuesday, Jan. 17, natural gas accounted for 46 per cent, or a daily average of 1,401 megawatts. Coal was 37 per cent, or 1,126 megawatts. Hydro produced an average of 444 megawatts, or 14 per cent of total generation. "Other," which includes heat recovery, biomass, small independent power producers like solar, power purchased from Manitoba came in at 105 megawatts, or three per cent. And solar averaged 1 megawatt, or negligible percentage.
Then on Wednesday, Jan. 18, natural gas made up 47 per cent of average total generation, with a total of 1,493 megawatts. Coal was an average of 37 per cent, or 1,170 megawatts. Hydro came in at 14 per cent, or 435 megawatts. "Other" was three per cent, or 105 megawatts. The aforementioned wind was 2 megawatts, or negligible, and solar was 1 megawatt, also negligible.
As Saskatchewan has 30 megawatts of grid-scale solar capacity, and it's been averaging 1 megawatt each day, that means solar output, throughout the day, has been 3.3 per cent of nameplate capacity for those days.
Notably, SaskPower's exports on Jan. 17 were much lower than usual, coming in at just 15 megawatts. Total power generated was 3,075 megawatts on average, and system demand was 3,060 megawatts. In recent weeks, exports have usually been in the 100 to 150 megawatt range. By Jan. 18, they had climbed to 80 megawatts, with SaskPower generating 3,205 megawatts and the system demanding 3,125 megawatts on average throughout the day.
American power was 45.3 per cent coal
As SaskPower is being forced off of coal-fired power production, last year SaskPower signed an agreement with the Southwest Power Pool (SPP) to beef up our bi-directional interconnect to North Dakota from 150 megawatts to 650 megawatts. It would allow SaskPower to buy or sell more power with the U.S. market.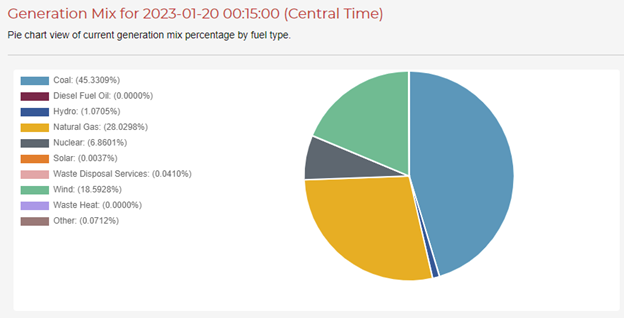 At 12:15 a.m. on Jan. 20, the mix of power generation from the SPP was 45.3 per cent coal, 28 per cent natural gas, and 18.6 per cent wind. Nuclear made up 6.9 per cent, hydro was 1 per cent, and solar, waste disposal services and waste heat were all negligible or zero.
Even on days when wind power has been negligible, SaskPower has averaged at least some power exports, and thus, over these days, on average, has not needed to import power. That doesn't mean that no imports took place, but rather that the net average has been exports.
0041 DEEP Since 2018 now we are going to build

0041 DEEP Since 2018 now we are going to build

0040 Southeast College safety tickets

0040 Southeast College safety tickets

0036 Prairie Lithium - Chad Glemser 30 Sec

0033 Buffalo Potash Jared Small Footprint

0032 IWS Summer hiring rock trailer music

0029 Latus Viro updated Latus phone

0025 Kendalls

0026 Buffalo Potash Quinton Salt

0023 LC Trucking tractor picker hiring mix

0022 Grimes winter hiring

0021 OSY Rentals S8 Promo

0019 Jerry Mainil Ltd hiring dugout

0018 IWS Hiring Royal Summer

0014 Buffalo Potash What if PO

0013 Panther Drilling PO ad 03 top drive rigs

0011

0006 JK Junior

0004 Royal Helium PO Ad 02

9001

0002