Brian Zinchuk is editor and owner of Pipeline Online
OTTAWA – Questions aren't just asked and answered in question period, and sometimes they take place in committee, and sometimes the results are in written form. While written answers are usually buried and forgotten about, one answer about the carbon tax by the Governor of the Bank of Canada, Tiff Macklem, got noticed.
In a letter dated March 11, 2022, Macklem explained how the federal carbon tax has caused inflation. It was in response to a question raised during his testimony before the House of Commons Standing Committee on Finance on March 3.
In his letter to chair Peter Fonseca, Liberal MP for Mississauga East-Cooksville, Macklem wrote, "I committed to reply to the question of the impact of the carbon pollution charge on the rate of inflation. According to the Bank's calculations, if the charge were to be removed from the three main fuel components of the consumer price index (gasoline, natural gas and fuel oil) it would reduce the inflation rate by 0.4 percentage points. In other words, if that policy had come into effect at the start of the year, January's inflation rate would have been 4.7% instead of 5.1 %.
"For clarity, the 0.1 percentage point figure I provided during the hearing referred to the impact on CPI stemming from the increase in the carbon pollution charge over the previous year. Had that increase not taken place, January's inflation rate would have been 5.0% instead of 5.1%."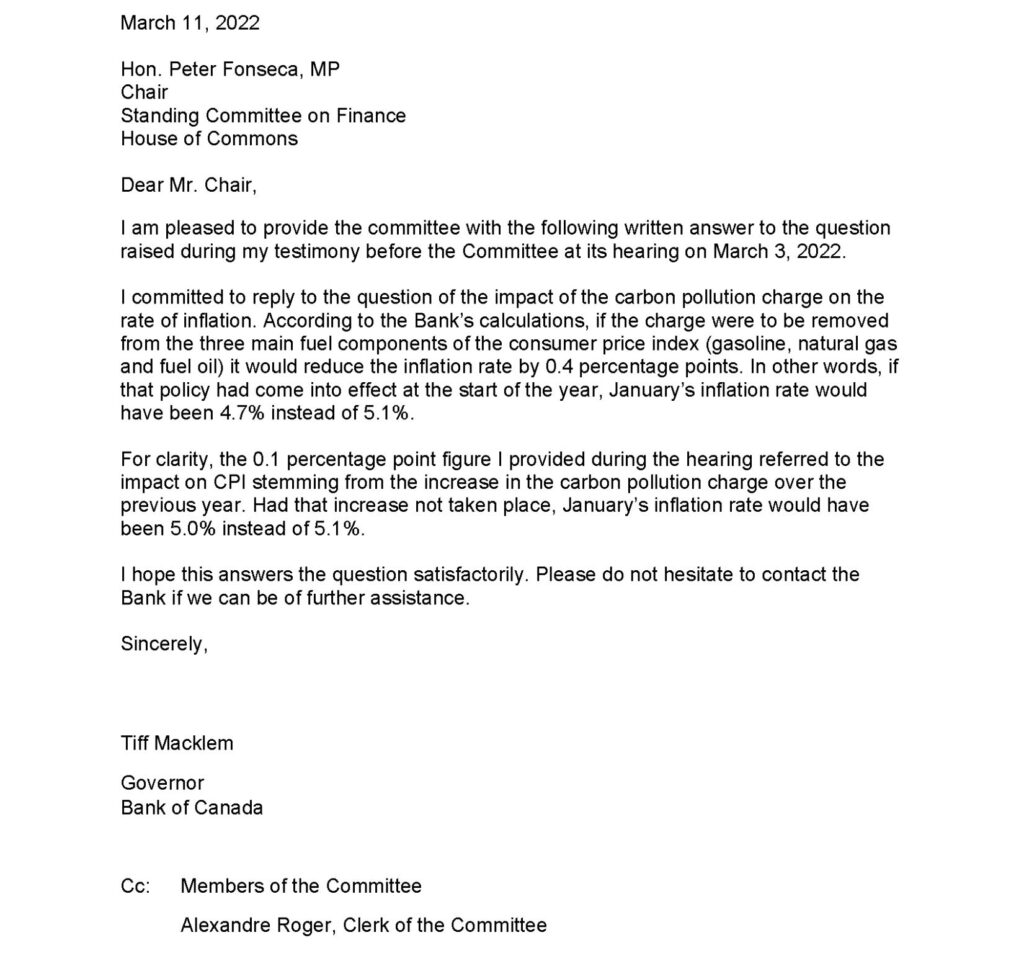 For reference, prior to the COVID-19 pandemic, the Bank of Canada's long-standing policy has been to maintain an annual inflation rate of 2% or less. Thus, the carbon tax alone would have accounted for one-fifth of what has for decades been considered acceptable inflation by both Liberal and Conservative governments.
This letter was posted on Conservative leadership candidate Pierre Poilievre's social media on March 14. He posted, "Bank Governor admits the carbon tax is adding to inflation. Brown, Trudeau and Charest support the carbon tax. I have always opposed it and will scrap it."
Patrick Brown from Ontario and Jean Charest from Quebec are two of the most recent entrants into the race for the leadership of the federal Conservative Party.
9002 Pipeline Online 30 sec EBEX

9002 Pipeline Online 30 sec EBEX

0056 OSY Rentals Hockey Draft 2023

0056 OSY Rentals Hockey Draft 2023

0055 Smart Power Be Smart with your Power office

0055 Smart Power Be Smart with your Power office

0015 Latus Viro

0015 Latus Viro

0054 SIMSA Energy Forum

0054 SIMSA Energy Forum

0053 Kingston Midstream Westspur Alameda

0053 Kingston Midstream Westspur Alameda

0052 Predator Inspections

0052 Predator Inspections

0051 JML Hiring Pumpjack assembly

0051 JML Hiring Pumpjack assembly

0049 Scotsburn Dental soft guitar

0049 Scotsburn Dental soft guitar

0046 City of Estevan This is Estevan

0046 City of Estevan This is Estevan

0043 ALX ten sizes

0043 ALX ten sizes

0039 Summit ESP Saskatchewan lower third

0039 Summit ESP Saskatchewan lower third

0041 DEEP Since 2018 now we are going to build

0041 DEEP Since 2018 now we are going to build

0032 IWS Summer hiring rock trailer music

0022 Grimes winter hiring

0021 OSY Rentals S8 Promo

0018 IWS Hiring Royal Summer

0013 Panther Drilling PO ad 03 top drive rigs

0011

0006 JK Junior

0004 Royal Helium PO Ad 02

9001

0002