Brian Zinchuk is editor and owner of Pipeline Online
A most interesting thing popped up on my LinkedIn feed on Nov. 10.
The post was from jetAVIVA, which has 2,605 followers.
There were three beautiful photos of a business jet. Here's the post:
"New to Market! This 2020 Phenom 300E represents an excellent value as a very highly equipped late model 300E. With only 450 hours since new, this aircraft is backed by ESP Gold, factory warranty, and equipped with Garmin Prodigy Touch avionics making it a perfect step up for those ready to fly a jet.
"Visit the link below for additional information and contact us at sales@jetaviva.com to learn more!"
#jetAVIVA #LifeisShortFlyaJet #Embraer #Phenom300E #NewtoMarket
Okay, what's the big deal, you might ask?
That would be where it landed on Nov. 10: Sharm El Sheikh, Egypt, location of the COP27 UN climate conference.
0045 WBPC 2023 Bright Colors P

0045 WBPC 2023 Bright Colors P

0044 PTRC CCUS Aquistore

0044 PTRC CCUS Aquistore

0043 ALX ten sizes

0043 ALX ten sizes

0042 Sask Oilfield Services

0042 Sask Oilfield Services

0039 Summit ESP Saskatchewan lower third

0039 Summit ESP Saskatchewan lower third

0041 DEEP Since 2018 now we are going to build

0041 DEEP Since 2018 now we are going to build

0040 Southeast College safety tickets

0040 Southeast College safety tickets

0033 Buffalo Potash Jared Small Footprint

0032 IWS Summer hiring rock trailer music

0029 Latus Viro updated Latus phone

0025 Kendalls

0026 Buffalo Potash Quinton Salt

0023 LC Trucking tractor picker hiring mix

0022 Grimes winter hiring

0021 OSY Rentals S8 Promo

0019 Jerry Mainil Ltd hiring dugout

0018 IWS Hiring Royal Summer

0014 Buffalo Potash What if PO

0013 Panther Drilling PO ad 03 top drive rigs

0011

0006 JK Junior

0004 Royal Helium PO Ad 02

9001

0002
Here's a pro tip – every civilian aircraft in the world has a tail number. Well, letters, actually, except in the US, which uses numbers. Anyhow, it's like a license plate. And there are a plethora of websites that use open-source data to record just about everything you want to know about any particular aircraft. There are aviation devotees around the world who dutifully take photos of every plane they can, and then upload them for all to see. And the tracking devices called an ADS-B, now required for navigation, lets you see exactly where that plane has been.
This is great fun, because we peasants can keep an eye on the lifestyles of the rich and famous climate warriors. Indeed, just a few days ago, Elon Musk pointed out that he will not shut down the Twitter bot that automatically posts every known detail of his own personal jet's coming and goings. (Follow it to find out the next place the richest man in the world is going to lay people off.)
I like JetPhotos.com. On it you can look up G-ENBA at https://www.jetphotos.com/registration/G-ENBA.  You can see photos of this very plane in Corfu, Greece on July 1, 2022. On Jan. 12, 2021, it was in Amsterdam, Netherlands. March 1, 2020 saw it at Biggin Hill, UK and Amsterdam.
Its registration is in the UK, as noted by the "G" prefix. (Canada uses "C"). Its serial number is 50500551. It's a 2020 model, with eight seats and two turbofan Pratt & Whitney Canada PW535E engines. It's registered to ENB Aviation Limited, Douglas, Isle of Man, UK.
You can see more photos of it here https://www.hangar67.com/aircraft/2020-embraer-phenom-300e/25981.
About six year ago I once had a generous offer for a flight in one of these. I looked it up and realized that just one hour of flight time cost more than I took home in a month. I declined.
So where has G-ENBA been recently?
Most of its time has been around Saudi Arabia. It took off from there Thursday morning, landing at Sharm El Sheikh.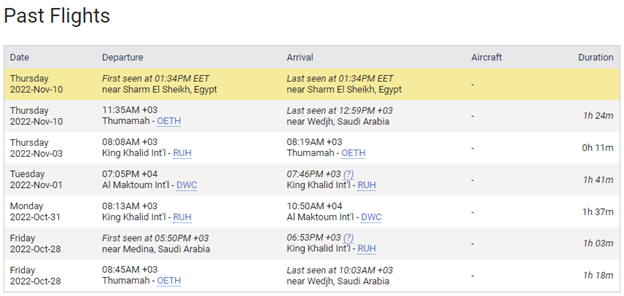 So I don't know what a UK-registered executive jet was doing bounding around Saudi Arabia, nor am I sure what it was doing in Egypt. Perhaps they just wanted to get some sun at the famous Egyptian resort between the desert of the Sinai Peninsula and the Red Sea. It's known for its sheltered sandy beaches, clear waters and coral reefs, Wikipedia says.
Or maybe, just maybe, its passengers were attending the COP27 climate conference going on at this time. Let's go with that.
And it's a pretty good bet. The London Daily Mail posted on Nov. 11, "FOUR HUNDRED private jets arrived in Egypt during COP27 as climate delegates are accused of 'hypocrisy.'
Four hundred. How much ramp space could they possibly have at that airport? Do they think they're Gander, Newfoundland, or something? Did they drop off their passengers and do a short hop somewhere else, just to have someplace to park? Maybe that's why G-ENBA took of on Nov. 11, flying southeast, presumably back to Saudi Arabia. (The flight track disappeared from records as soon as it took off. Imagine that.)
After all, the first thing you see on the conference website is this quote from the president of Egypt:
I deeply believe that COP27 is an opportunity to showcase unity against an existential threat that we can only overcome through concerted action and effective implementation.

President Abdel Fattah El-Sisi
Existential threat, eh? If its so existential, why didn't they walk there? Call a Zoom meeting? Take a sailboat?
But hey, we better stop burning coal or natural gas for power production. We better stop driving gasoline or diesel-fueled cars and trucks. We're all in it for the planet!
Isn't that what the passengers of those 400 private jets are telling us?
But don't worry, because there's more important threats than greenhouse gases. There's the combination of greenhouse gases and gender. The theme of Nov. 14 is "Gender Day," because that has everything to do with the existential threat and melting icecaps. Since G-ENBA's flight to Sharm El Sheikh originated from Saudi Arabia, I wonder how many genders its passengers will be celebrating on "Gender Day?"
What does gender have to do with climate change? Glad you asked. Here's the panels:
Headline Event: Women's Agency in Climate Dialogues & Implementation, Win Win For all
High-Level Panel: Voice of Women Leaders in Climate Debates, Policies, Implementation & Beyond.
Women and Climate Change Finance
African Women Climate Change Realities: Adaptation, Mitigation & Response
Covid-19 & Climate Change: Women at The Center of Planning & Response
Women Livelihood Within Just Transition, followed by a press conference
Funny how it only talks about women. Why wouldn't a conference hosted in Muslim Egypt talk about more than that?
At least the passengers of G-ENBA were there on one of the more important days – "Decarbonization Day" on Nov. 11. It included:
The Decarbonization Challenge
Accelerating the way towards Decarbonizing the Steel Industry
From Commitments to Action: The Oil & Gas Industry's Decarbonization Journey. (Maybe one of G-ENBA's passengers was the guest speaker, explaining Saudi efforts to decarbonize?)
Towards a Decarbonized Fertilizers Industry (Saskatchewan farmers, rejoice!)
Advancing the Global Methane Pledge
Advancing Efforts in Decarbonizing Cement (surely Quebec will take note)
Forging Ahead: Supporting Low Carbon Development Pathways for Africa and the Developing World. (Because telling a continent that still uses wood or animal dung to cook supper that natural gas is bad it obviously 'support.')
So don't forget to put a bid in on G-ENBA. Then you, too, can tell the rest of the world not to do the very things you are doing – burning fossil fuels. Be sure to decarbonize your new-to-you jet!
Brian Zinchuk is editor and owner of PipelineOnline.ca. He can be reached at brian.zinchuk@pipelineonline.ca.
0045 WBPC 2023 Bright Colors P

0045 WBPC 2023 Bright Colors P

0044 PTRC CCUS Aquistore

0044 PTRC CCUS Aquistore

0043 ALX ten sizes

0043 ALX ten sizes

0042 Sask Oilfield Services

0042 Sask Oilfield Services

0039 Summit ESP Saskatchewan lower third

0039 Summit ESP Saskatchewan lower third

0041 DEEP Since 2018 now we are going to build

0041 DEEP Since 2018 now we are going to build

0040 Southeast College safety tickets

0040 Southeast College safety tickets

0033 Buffalo Potash Jared Small Footprint

0032 IWS Summer hiring rock trailer music

0029 Latus Viro updated Latus phone

0025 Kendalls

0026 Buffalo Potash Quinton Salt

0023 LC Trucking tractor picker hiring mix

0022 Grimes winter hiring

0021 OSY Rentals S8 Promo

0019 Jerry Mainil Ltd hiring dugout

0018 IWS Hiring Royal Summer

0014 Buffalo Potash What if PO

0013 Panther Drilling PO ad 03 top drive rigs

0011

0006 JK Junior

0004 Royal Helium PO Ad 02

9001

0002