Brian Zinchuk is editor and owner of Pipeline Online
REGINA – On Nov. 30, former Premier Brad Wall's official portrait was unveiled at the Legislature.
"There is perhaps no better time for intentional reflection than at your own public hanging. I will ever be grateful for having the very unlikely opportunity to serve this province that I love. Thank you, Saskatchewan," said former Premier Brad Wall in social media posts sharing this video of his speech at the event.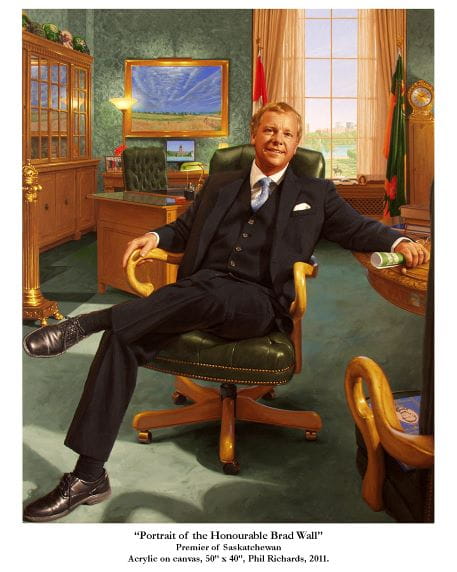 "Painted by renowned Canadian artist Phil Richards, the portrait took four and a half months of work over the span of a two-year period. The portrait features Wall in a three-piece suit, seated in the premier's office. He is surrounded by meaningful objects, photos of his family, and is holding a copy of The Promise of Saskatchewan. A painting of scenery near Swift Current can be seen over his shoulder. Richards is one of Canada's most esteemed portrait painters and is known for his depictions of government, education and business leaders, including Her Late Majesty Queen Elizabeth on the occasion of her Diamond Jubilee," stated the official press release.
Wall has, on occasion, contributed opinion pieces to Pipeline Online.
0041 DEEP Since 2018 now we are going to build

0041 DEEP Since 2018 now we are going to build

0040 Southeast College safety tickets

0040 Southeast College safety tickets

0036 Prairie Lithium - Chad Glemser 30 Sec

0033 Buffalo Potash Jared Small Footprint

0032 IWS Summer hiring rock trailer music

0029 Latus Viro updated Latus phone

0025 Kendalls

0026 Buffalo Potash Quinton Salt

0023 LC Trucking tractor picker hiring mix

0022 Grimes winter hiring

0021 OSY Rentals S8 Promo

0019 Jerry Mainil Ltd hiring dugout

0018 IWS Hiring Royal Summer

0014 Buffalo Potash What if PO

0013 Panther Drilling PO ad 03 top drive rigs

0011

0006 JK Junior

0004 Royal Helium PO Ad 02

9001

0002