Associate Press copy is provided via The Canadian Press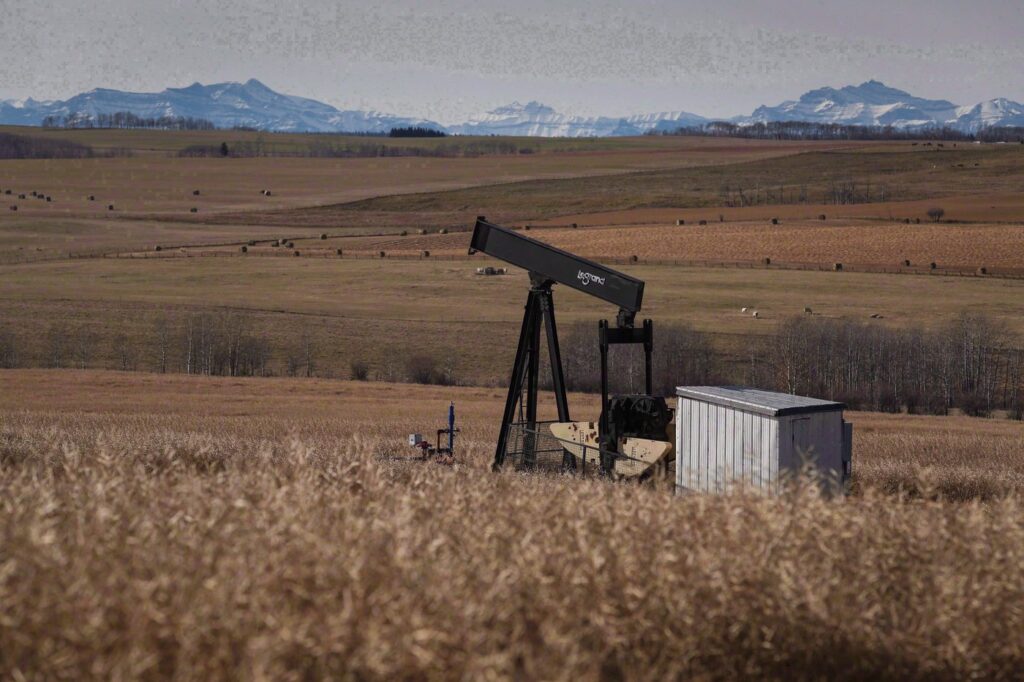 The Alberta Energy Regulator is considering allowing oil and gas companies to reduce their environmental liabilities on old well sites before the cleanup is certified complete.
The regulator says the move would reward companies that remediate their old sites promptly, cutting the amount of environmental red ink on their books and making it easier for them to sell or buy old wells. It comes as Alberta tries to figure out what do with the tens of thousands of old wells that pock the provincial landscape.
But critics say the proposal weakens the ability of landowners to hold bad actors to account and depends on an audit system that many already question.
"They don't audit," said Daryl Bennett, a landowner with Action Surface Rights, which represents more than 1,000 landowners across the province.
"If they reduce these liabilities, they will reduce the flags for the (regulator)."
Oil and gas companies can reduce the amount of environmental liability on their books when they receive a reclamation certificate for an old well. Those certificates are normally granted after the cleanup is complete and appropriate plant cover is established.
The reduction makes transactions such as transferring a well licence easier. One factor the regulator considers before it transfers a licence is the financial health of the buyer and the likelihood of its being able to fulfil reclamation obligations.
But under the proposed reclamation liability reduction program, the regulator would immediately reduce that liability if the company says cleanup is complete, whether plants are healthy or not. That reduction would hold for five years or until a reclamation certificate is granted.
"The reduction would only be requested when all abandonment, remediation, and reclamation work has been completed and the only thing left to do is to re-establish vegetative cover," says a program description on the regulator's website.
"It may take several years before vegetation is fully established and the site becomes eligible for a reclamation certificate."
Drew Yewchuk, a lawyer and researcher on Alberta's regulatory system, said the proposed program would rely on company self-reporting on cleanups. The regulator's record on auditing those reports, he said, is "horrible."
"They rely on companies to have third-party inspectors to check if the reclamation has taken place correctly," he said. "It often hasn't."
He points to a recent example of the regulator having to revoke at least five reclamation certificates last spring after one operator entered bankruptcy. The regulator's website lists at least 30 previously granted reclamation certificates that were revoked in 2023.
"They're trusting companies too much and they're giving certificates that they shouldn't," said Yewchuck.
Bennett, who agrees the regulator is too lax in granting reclamation certificates, fears that reducing an environmental liability in advance would also reduce a company's eagerness to finish the job.
"If they can sit and wait for the vegetation monitoring, they may not be as anxious to finish the work," he said.
Surface reclamation is only part of the story, said Bennett. Wells may leak chemicals below ground for years and poor plant regrowth can be one signal of that.
As well, he's concerned that giving companies one more way to reduce their environmental liability removes another regulatory checkpoint ensuring that old wells end up in financially secure hands.
"If they reduce these liabilities, they would reduce the flags for the (regulator)," Bennett said.
Bennett said if the government wants to give industry an advance break on its promises to clean up after itself, landowners should have a voice.
"If companies had to go and get a sign-off from the landowner, a lot of our concerns would go away," he said.
Regulator spokeswoman Lauren Stewart said the program is still being designed and details are scarce, including an estimate of how much environmental liability would disappear under it.
She said the proposal grows from the current practice of allowing a producer to request a 50 per cent reduction in reclamation liability for an abandoned well or other facility.
"The (regulator) is encouraging industry to complete more reclamation work," she said in an email.
Freedom of Information documents obtained by Yewchuk indicate industry has been asking for the change for years.
A 2022 document refers to a "liability reduction credit at reclamation stages" program under "Industry Feedback." The regulator's response is "project in progress."
Alberta government figures say there are 459,000 oil and gas wells in the province. A 2022 report from the parliamentary budget officer says about two-thirds are inactive — although that category includes wells slated for cleanup as well as those that have been properly abandoned or suspended.
This report by The Canadian Press was first published Oct. 24, 2023.
Bob Weber, The Canadian Press
News from © The Canadian Press, 2023. All rights reserved. This material may not be published, broadcast, rewritten or redistributed.
0060 Arizona Lithium Lease building

0060 Arizona Lithium Lease building

0059 Southeast College Heavy Equipment Operator

0059 Southeast College Heavy Equipment Operator

0058 Royal Helium Steveville opens anonymous rocket

0058 Royal Helium Steveville opens anonymous rocket

9002 Pipeline Online 30 sec EBEX

9002 Pipeline Online 30 sec EBEX

0055 Smart Power Be Smart with your Power office

0055 Smart Power Be Smart with your Power office

0015 Latus Viro

0015 Latus Viro

0052 Predator Inspections

0052 Predator Inspections

0051 JML Hiring Pumpjack assembly

0051 JML Hiring Pumpjack assembly

0049 Scotsburn Dental soft guitar

0049 Scotsburn Dental soft guitar

0046 City of Estevan This is Estevan

0046 City of Estevan This is Estevan

0043 ALX ten sizes

0043 ALX ten sizes

0039 Summit ESP Saskatchewan lower third

0039 Summit ESP Saskatchewan lower third

0041 DEEP Since 2018 now we are going to build

0041 DEEP Since 2018 now we are going to build

0032 IWS Summer hiring rock trailer music

0022 Grimes winter hiring

0021 OSY Rentals S8 Promo

0018 IWS Hiring Royal Summer

0013 Panther Drilling PO ad 03 top drive rigs

0011

0006 JK Junior

9001

0002