Associate Press copy is provided via The Canadian Press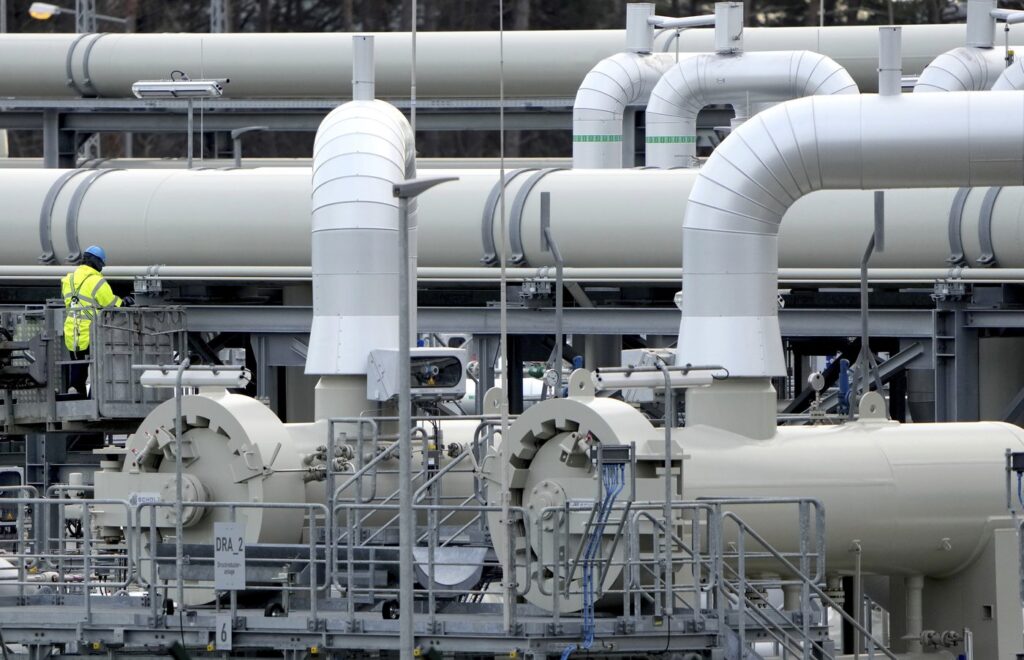 FILE – Pipes at the landfall facilities of the 'Nord Stream 2' gas pipline are pictured in Lubmin, northern Germany, on Feb. 15, 2022. Russia clashed with the United States and other Western nations Tuesday, Feb. 21, 2023 over the Kremlin's call for a U.N. investigation of last September's sabotage of the Nord Stream 1 and 2 gas pipelines from Russia to Western Europe. (AP Photo/Michael Sohn, File)By Matthew Lee in Washington
WASHINGTON (AP) — It's a major international mystery with global consequences: Who was behind the explosions that damaged the Nord Stream gas pipelines last year in the Baltic Sea?
The answer has broad implications for European energy security but could also threaten Western unity over backing Ukraine in defending itself from Russia's invasion. Or, it might shatter Russian and Chinese attempts to fix the blame on a hypocritical West.
Yet, nearly six months after the sabotage on the Russia-to-Germany pipelines, there is no accepted explanation. And a series of unconfirmed reports variously accusing Russia, the United States and Ukraine are filling an information vacuum as investigations into the blasts continue.
A look at the pipelines and what's known about the explosions.
WHAT ARE THE NORD STREAM PIPELINES?
The pipelines, known as Nord Stream 1 and Nord Stream 2, are majority-owned by Russia's state-run energy giant Gazprom and used to transport natural gas from Russia to Europe under the Baltic to their termini in Germany.
Nord Stream 1 was completed and came online in 2011. Nord Stream 2 was not finished until the fall of 2021 but never became operational due to the launch of Russia's invasion of Ukraine in February, 2022.
WHY ARE THEY CONTROVERSIAL?
Both pipelines bypass existing routes that go through Ukraine, meaning not only that Ukraine loses income from transit fees but is unable to directly use the gas they carry.
Of perhaps greater concern to the West, the pipelines were seen as a move by Russia to gain further, if not almost complete, control over Europe's energy supplies. Many in the West fear that Russia will use energy as a political weapon against European countries as it has done in the past with former Soviet states.
Despite those concerns and over the objections of the Obama, Trump and Biden administrations, the German government under former Chancellor Angela Merkel moved ahead with the construction of the Nord Stream 2 project. The Biden administration waived sanctions against German entities involved in Nord Stream 2 after securing a pledge from Germany that it would allow backflows of gas into Ukraine and would act to shut the pipeline down should Russia try to use it to force political concessions.
After Russia's Feb. 24, 2022, invasion of Ukraine, Germany withdrew permission for Nord Stream 2, which had not yet come online.
WHAT HAPPENED TO THE PIPELINES?
First, Gazprom halted gas flows through Nord Stream 1 on Sept. 2, 2022, citing issues related to European sanctions imposed against Russia over the war in Ukraine.
Three weeks later, both Nord Stream 1 and Nord Stream 2 were hit by explosions that rendered them inoperable and caused significant leaks of gas that was idle in the pipelines. Some have said the blasts caused the worst release of methane in history, although the full extent of the environmental damage remains unclear.
The depth of the pipeline and the complexity of using underwater explosives lent credence to the idea that only a state actor with the expertise to handle such an operation could be responsible. But no one claimed responsibility.
In the immediate aftermath of the explosions, U.S. officials suggested Russia may have been to blame while Russia accused the United States and Britain of being behind them. Investigations by European nations, including Denmark, through whose waters the pipeline travels, and Germany have yet to yield conclusive results.
WHAT THEORIES HAVE BEEN REPORTED?
After months of few developments in the probes, American investigative journalist Seymour Hersch, known for past exposes of U.S. government malfeasance, self-published a lengthy report in February alleging that President Joe Biden had ordered the sabotage, which Hersch said was carried out by the CIA with Norwegian assistance.
That report, based on a single, unidentified source, has been flatly denied by the White House, the CIA and the State Department, and no other news organization has been able to corroborate it. Russia, followed by China, however, leaped on Hersch's reporting, saying it was grounds for a new and impartial investigation conducted by the United Nations.
On Tuesday, though, The New York Times, The Washington Post and German media published stories citing U.S. and other officials as saying there was evidence Ukraine, or at least Ukrainians, may have been responsible. The Ukrainian government has denied involvement.
Germany's Die Zeit newspaper and German public broadcasters ARD and SWR reported that investigators believed that five men and a woman used a yacht hired by a Ukrainian-owned company in Poland to carry out the attack. German federal prosecutors confirmed that a boat was searched in January but have not confirmed the reported findings.
WHAT ARE THE CONSEQUENCES FOR THOSE FOUND RESPONSIBLE?
The implications of a determination that Ukraine was behind the explosions are not entirely clear. It's unlikely it would result in an immediate loss of Western support for Ukraine in the war with Russia, but it might dampen enthusiasm for future assistance if it was found that Ukraine or its agents carried out such an operation in European waters.
A determination that the United States or a proxy was responsible would give Russia and China additional leverage to go after the U.S. and its allies as hypocrites in their demands for the rule of the law, sovereignty and territorial integrity to be respected.
A finding that Russia was behind the explosions would lend weight to Western claims that Moscow is in flagrant breach of international law and willing to use energy as a weapon against Europe.
There is no indication of when the European investigations will be complete — and it seems improbable, given the animosity and mistrust surrounding the Ukraine conflict, that its findings will be universally accepted.
___
Frank Jordans in Berlin contributed.
News from © The Canadian Press, 2023. All rights reserved. This material may not be published, broadcast, rewritten or redistributed.
9002 Pipeline Online 30 sec EBEX

9002 Pipeline Online 30 sec EBEX

0056 OSY Rentals Hockey Draft 2023

0056 OSY Rentals Hockey Draft 2023

0055 Smart Power Be Smart with your Power office

0055 Smart Power Be Smart with your Power office

0015 Latus Viro

0015 Latus Viro

0054 SIMSA Energy Forum

0054 SIMSA Energy Forum

0053 Kingston Midstream Westspur Alameda

0053 Kingston Midstream Westspur Alameda

0052 Predator Inspections

0052 Predator Inspections

0051 JML Hiring Pumpjack assembly

0051 JML Hiring Pumpjack assembly

0049 Scotsburn Dental soft guitar

0049 Scotsburn Dental soft guitar

0046 City of Estevan This is Estevan

0046 City of Estevan This is Estevan

0043 ALX ten sizes

0043 ALX ten sizes

0039 Summit ESP Saskatchewan lower third

0039 Summit ESP Saskatchewan lower third

0041 DEEP Since 2018 now we are going to build

0041 DEEP Since 2018 now we are going to build

0032 IWS Summer hiring rock trailer music

0022 Grimes winter hiring

0021 OSY Rentals S8 Promo

0018 IWS Hiring Royal Summer

0013 Panther Drilling PO ad 03 top drive rigs

0011

0006 JK Junior

0004 Royal Helium PO Ad 02

9001

0002