Poilievre skips Conservative leadership debate, shows up in Weyburn, Estevan, Regina and Moosomin instead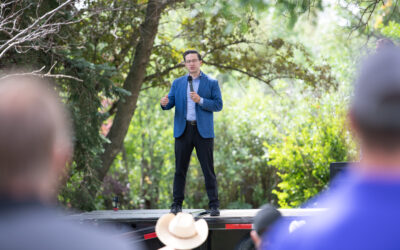 Frontrunner Conservative leadership candidate Pierre Poilievre skipped a national leadership debate to make his second visit to southeast Saskatchewan in two months on Aug. 3, making stops in Weyburn, Estevan and Moosomin as well as Regina that day.
After a meet and greet in Weyburn, he came out to Jason and Sherrill LeBlanc's farm, west of Estevan, for another meet and greet with supporters. There, a backdrop of representative equipment from local businesses and the farm was lined up. There was a picker truck, a semi of bales, a dump truck of coal, a cement truck, a tractor and combine, each meant to show a different part of the local economy – oil, ranching, coal mining and power, industry and farming.