Poilievre attended the 2019 Saskatchewan Oil and Gas Show. Here's what he had to say about energy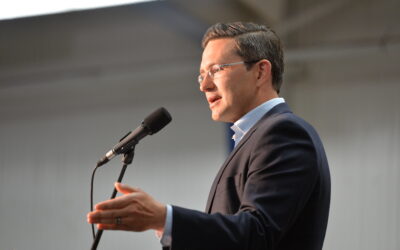 WEYBURN – On Feb. 5, Ottawa Conservative MP Pierre Poilievre announced that he was "running for prime minister," his way of saying he was entering the federal Conservative leadership race after the ouster of Erin O'Toole was leader.
It is apparent, now, that he's been laying the groundwork for this run for quite some time. In 2019, he attended the Saskatchewan Oil and Gas Show in Weyburn, and took the stage briefly, something uncommon for an Ontario member of Parliament. He was joined at the time by Quebec MP Gerard Deltell, member of Parliament for Louis-Saint-Laurent, who also addressed the crowd.